POSTER and MOUNTED PRINT variation!
Is there ever a bell flower
so dear and fair to the heart
The tranquil, and intillegent
Harebell is inspirational
in its calming beauty
This small blue bloom
home to fairies
ring out peace and tranquility
with faithful confidence.
Don't pick the harebell
leastwise you will bring
about rain so they say.
Self assured, and yet
also a symbol of humilty
'Twas William Shakespeare who
wrote of the assured harebell
Monikered Deadman's bells,
the harebell represents grief
and yet do tell
"Hope is like a harebell"
penned Christina Rossetti
~JET Adamson
As a poster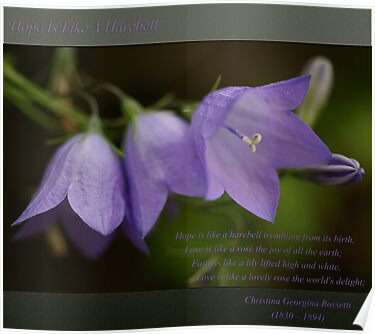 As a mounted Print