I spotted this boat on Friday afternoon when I was heading up to the Old Man Of Storr on Skye. On my way back down to Ord after my trip up the Storr, I decided to pull over and wait for the light to hit the boat – patience paid off and the sun made an appearance for a short time.
My pal Petra, who I went away with, was very poorly half way through the week and went to her bed on the Thursday and Friday, suffering with a terrible cold (probably caught when she fell in the river at Glencoe on our way up to Skye the Saturday before!). When I went out on the Friday by myself, I locked the back door and left her in her bed with her dog guarding her, and toddled off for the day with my dog first to Blaven then up to the Old Man of Storr.
On my return at 7pm, laden with fish and chips from Broadford, I discovered that the poor woman had felt better by lunchtime, had got up – decided to go out with her dog and her camera, and went to open the front door to discover the key did not fit and was locked in the cabin till I returned!!!!!!!!!!!
Fortunately she saw the funny side and I was devastated but saw the funny side too – the fish and chips were a good peace offering.! eek!! The cottage owners have been advised of course that a key for each door would be a good idea.. :)
Canon EOS 30D, E-fs 10-22 lens, CP, graduated filter, tripod and a bit of patience!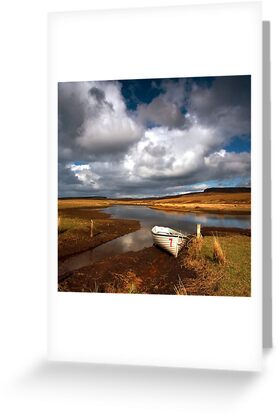 Featured in Colour and Light 23rd January 2011