The week before the 'Great East Japan Earthquake', I was working on this piece and wondering "what the heck IS it…??!"
The night before I found out about the Fukushima nuclear power plant disaster, I felt a horribly disturbing sensation in my head, neck, chest and feet, as if the flesh beneath my skin was 'burning'…I couldn't get to sleep for it…
---
Following Fukushima, whilst I was calling for the release of Free Energy technology (which, by the way, has been withheld from public for decades), a scientifically-minded acquaintance of mine declared that I was wrong to say that our current methods of energy production "make no sense"…
"They DO make sense", he claimed, "because they work…"
What can one to say to an individual who thinks that "it works" is synonymous with "it makes sense"?
Of course, what I was alluding to is the criteria by which I feel all of our actions must be evaluated: IS IT ENERGETICALLY CORRECT? And if not, why on earth AM I DOING IT?!
---
So here we are, humanity; walking as a species Into the Unknown. I don't know where we're going, but I do know this – if our behaviour continues to be so out of alignment, so utterly irresponsible, so energetically incorrect, the great balancing forces of Life will bring about a reckoning which may well be our downfall…
But those who have 'eyes to see' will see…and Life will always, ultimately, prevail…
And there will always be the green and the new…and the unknowable, and the unknown…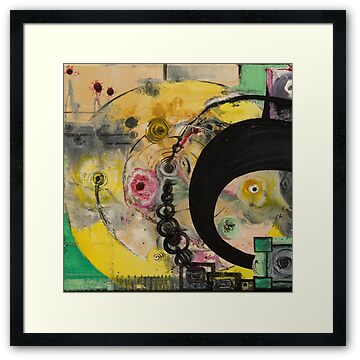 Original art by Jay: Taylor, copyright and all rights reserved, until the glorious day where such things are unnecessary.
Oils and acrylics on 16″ × 20″ box canvas. Original £1000 plus shipping