This piece manifested at the height of the Deepwater Horizon BP oil spill in the Gulf of Mexico. Its working title was "They're Burning Turtles?", the image of which tormented me after reading about it on the internet…
Although elements of darkness and pain thread undoubtedly through this work, it also fills me with a sense of warmth and light: no matter how awful our human transgressions, Life Itself will ultimately ALWAYS endeavour to return to the awesome functionality and beauty that is its very nature. It is this drive, this innate ability, that will fill my heart and inspire my existence for as long as I continue to draw breath upon this beautiful planet…
Original art by Jay: Taylor, copyright and all rights reserved
Acrylics, acrylic mediums and collaged materials and objects on 16″ × 20″ boxed canvas.
Original sold.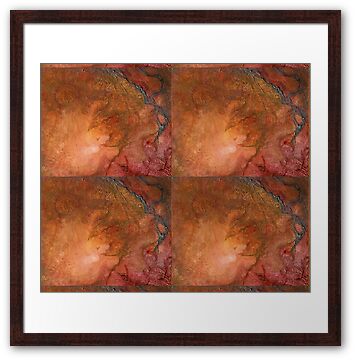 Latest on the Gulf of Mexico oil spill at Natural News
"Is there hope for me,
After all is said and done?
Anything at any price;
All of this for you.
All the spoils of a wasted life;
All of this for you.
All the world has closed her eyes,
Tired faith all worn and thin,
For all we could have done
And all that could have been.
Ocean pulls me close
And whispers in my ear,
The destiny I've chose
All becoming clear.
The currents have their say.
The time is drawing near.
Washes me away,
Makes me disappear.
And I descend from grace
In arms of undertow…
I will take my place
In the great below…"
Lyrics from "The Great Below", Nine Inch Nails