Those who have been following my photographic work for any amount of time would know that toning has never really been a big part of my workflow. I just had to do it with this shot though!
I was particularly fond of the high contrast look and feel that the city lights bought to the black and white version of this image (something like the 'Sin City' look)… and when I added that cool, blue, Selenium tone to it, I knew I had to work this image through to publication.
The only other thing that needed to be done here was to add a subtle post-crop vignette, which helped to emphasise that cloud hanging behind two-thirds of the city (and the contrast between it and the dark, night sky behind the other third). Now I can't stop looking at it! grins
Featured: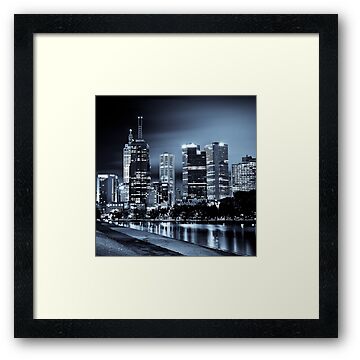 Technical Data:
Canon EOS 450D camera;
Canon EF-S 18-55mm f/3.5-5.6 lens @ 34mm
60.0sec @ f/8.0 (ISO 100)
Manfrotto 190XB tripod with 804RC2 head
Remote Shutter Release
Process:
Corrections applied using Adobe Photoshop Lightroom 3.3 and Adobe Photoshop CS5 Extended;
B&W and Selenium Tone applied using Adobe Photoshop Lightroom 3.3.