Although on location at Point Lonsdale to shoot the sunrise, a trip down that way wouldn't be complete without coming home with at least one photo of the lighthouse grin
Was a little disappointed to find that the morning's low tide was a bit higher than previous visits, and this rendered much of the rocky outcrop inaccessible… this was as close as I could find to a rock pool for the foreground.
And yes, I ended up sitting in the car for the two hours drive home with a wet bum and waterlogged shoes… will I ever learn THAT lesson?!?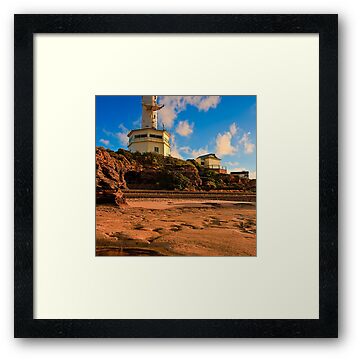 Technical Data:
Canon EOS 450D
Canon EF-S 18-55mm f/3.5-5.6 lens @ 18mm
1/30sec @ f/8.0 (ISO100)
Hoya PRO1D CPL filter
Cokin P121S ND Grad filter
Manfrotto 190XB tripod with 804RC2 head
Processing:
HDR generated from 3 exposures (0, +/-2ev) using Photomatix Pro 4.0.2
Corrections applied using Adobe Photoshop Lightroom 3.3 and Adobe Photoshop CS5 with Imagenomic Noiseware Professional plug-in