My first star trail attempt.
While at the Grampians for a few days with family, Neil and I headed out to Lake Fyans after our sunset shoot to do some star trail shots. It was really peaceful and relaxing out there, very surreal.
Even though we were on hardly any sleep, finishing off at 1:30am, and having to be up at 5am the next morning, I think this was worth it. I'll definitely be trying this again.
Startrail from the peak of Mt Buffalo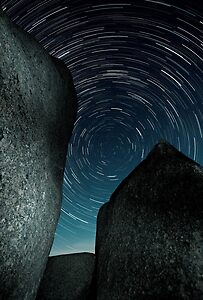 Canon 40D
Lens: EF-S 10-22mm
Focal Length: 10mm
Shutter Speed: 30 seconds x 114 shots
Aperture: f4.0
ISO: 800
Auto White Balance
Format: RAW
Tripod & remote shutter
Drive mode set to Continual Burst
Post Exposure +0.9, sharpening & noise reduction
Converted to JPEG and layered together
Full details can be found here in my blog tips