Featured on RB Explore 9/27/2012.
As of 3/25/2014..1705 views.
This is a shot of Bonneyville mills in Bristol, Indiana USA 1/14/2012. Taken with fujifilm finepix S 1000 fd camera.
This won the Avatar & Voucher February Challenge in the Streams & Stream Crossings group 2/27/2012.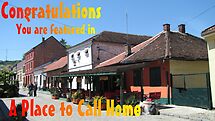 Cyberspace is no place for the real world
Plastic minds got no soul
Man made stars in the sky will they find me
Faceless world dips so low
Oh No…
Android faces confined to a blank screen
Mankind stands in their way
Sleepless dreams fill my days can they save me
Mindless robots we'll slave
Lost in the electric Sleep…
Look at the lights and tell me what you're gonna find
Nothing but the circuits behind
Looks in the lights and tell me where should I begin
Where's the part that makes it all spin?
Look at her eyes and tell me what you're gonna find
See the sould that proves you're not blind
Look in her eyes and show me the timelessness of love
Sleeping in the darkness above
Cyberspace is no place for the real world
Plastic minds got no soul
Electric hearts beat in time on the last day
They can't see any way