738 views by 17 July 2014
FEATURED in "Sketching and Drawings" group 11/21/11
This pen and ink drawing still pleases me greatly today, ten years later. While visiting New York City in November 2000 we took in a play at The Royale Theater. We saw the production of "Copenhagen" and that night we arrived early for discounted tickets. It was cold outside and they let us into our seats to get us out of the lobby. It was set up as theater in the round by building curved box seat bleachers up on the stage itself. You can see a patron in his seat on the right hand side of the sketch. Our seats were similarly up on stage, giving me time and a unique point of view to draw from. The total stage set was the light colored wood like a flat globe and two chairs like the one illustrated.
The plays story was around potential conversations between German and Allied physicists regarding development of the atomic bomb prior to and during WW II. There was a constant theme of uncertainty through out the dialogue, which inspired me (at the time) to add the word "uncertainty" to the back of the upper 'fly curtain'. Note the outer boxes and lower floor was beginning to fill up, but no one in the balcony seating yet.
This is a series of sketches from the same Canson 5x 8" sketchbook, as denoted by the same color blue background. Getting these ready and loaded is a great formula for becoming an insomniac night crawler… uuuhg.
; – ))))))))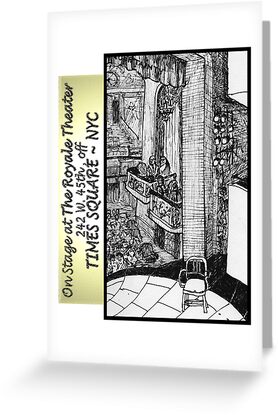 CLICK the first TAG (jlh designs) and it'll take you to a collection of James' favorite works from his 3 Red Bubble sites!