Welcome!
I'm living in a small village between Dordrecht and Rotterdam in Holland.
In July 2011 I picked up photography for fun when I bought myself a Nikon D5100. The objectives I'm using are:
- AF-S Nikkor 18 – 55mm
- AF-S Nikkor 70 – 300mm
The photos that are shown on this site are not edited in any way (except section selective colouring & B/W), just straight from the camera!
I'll try to learn from your much appreciated comments and remarks!
Enjoy and thank you for visiting!
If you want to leave any messages you can click the following link: Jackie
All photographs in this portfolio are under copyright and owned by me. Any reproduction, modification, publication, transmission, transfer, exploitation of any of the content, for personal or commercial use, whether in whole or in part, without written permission is prohibited.
©2012 Jacqueline van Zetten, all rights reserved.
---
I've been featured in the Spotlight on March 04, 2012 in the beautiful group Dutch Showcase (International Showcase)

now called

Featured in the group International Showcase
---
Featured in The Birds
---
Featured in Love these creatures
---
Featured in Eye Contact
---
Featured in Low Light – Dark Background Photography
---
Featured in Natures Paintbrush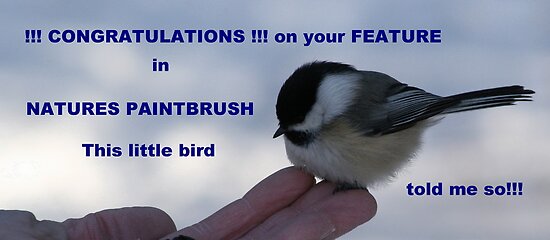 ---
Featured in European Everyday Life

---
Featured in Fungilicious

---