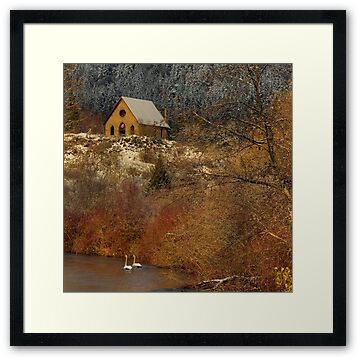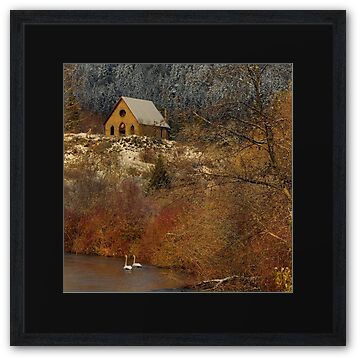 Under a low afternoon sun, the old Stone Butter Church glows warm on an otherwise chilly November day.
"HISTORY OF THE OLD STONE BUTTER CHURCH"
In the mid 1800's the Cowichan Indian tribes were one of the largest Indian tribes in British Columbia. The Roman Catholic missionaries were intent on establishing and gaining a following amongst the local Cowichan Indian communities. In June of 1858 Father Peter Rondeault from Quebec( 33 yrs old at the time), set out to the Cowichan area via canoe that he paddled from Brentwood Bay. Upon construction of a small log church, Rondeault built himself a small one room dirt floor log cabin with hand split planks for the interior walls which were donated from the Cowichans.
In 1870 Father Rondeault built a stone church on Comiaken Hill, with the help of the natives. The church got its name " Butter Church" from the moneys he used to pay his helpers, from the sale of butter from his dairy herd on the mission's farm.
The Old Stone Butter Church was only used for ten years, as Bishop Demers ordered a new church to be built on land with a clear title. The verbal agreement authorizing the construction of the church on Indian Land was not sufficient for the bishop. The Stone Church was abandoned and repeatedly vandalized. It developed the reputation as the haunted church among the natives. Repairs were attempted in 1922 and again in 1958 and 1980 when it was rebuilt as a cultural centre but the church rapidly reverted to the ghostly vandalized structure prominently located on Comiaken Hill.
"PHOTO INFORMATION"
Taken on Nov 21/10 at 2:47pm, along the Cowichan River on Cowichan Band land, ( south east Vancouver Island, B.C., Canada).
Camera; Canon 40D
Lens; Canon E 100-400 IS USM L lens.
Tripod; Manfrotto, including 498RC2 ball head.
Taken at; 1/800's at f/10, 100 mm, man wht bal, iso 800.
One shot processed in PhotoMatrix Pro. No sharpening added, no cropping.