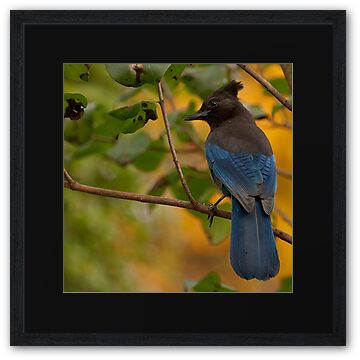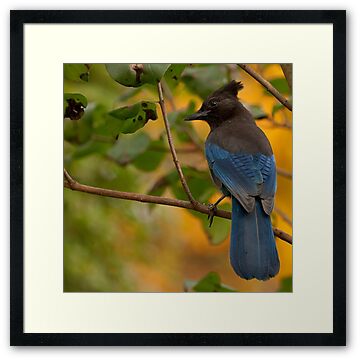 The spring and autumn seasons bring the cheeky Steller's Jays to my yard. It doesn't take long before they become accustomed to my presence, allowing me to capture some shots of them. I had four of them visiting this fall and captured this one in my Lilac tree with glowing autumn shaded maples and greens from the Lilac behind.
"ABOUT STELLER'S JAYS"
Length; 30-34 cm (11.8-13.4 in)
wingspan; 44cm (17.3 in)
weight; 100-140g ( 3.5-4.9 oz)
Steller's Jays are British Columbia's provincial bird. They originally got their name when the species was first collect by a German naturalist by the name of Georg Steller, while he was working as a doctor on one of Vitus Bering's expeditions to Alaska. The Steller's Jay is of the Crow family and is common on Vancouver Island and in the southern part of the province, from sea level to about 2,100 meters in interior, preferring coniferous and mixed deciduous-coniferous woodlands. Like Crows, Steller's Jays are opportunistic omnivores. They are also creative in a variety of sounds as they mimic other birds, for example the call of a Red-tailed Hawk when an interloper invades its territory!
"PHOTO INFORMATION"
Taken south east Vancouver Island, B.C., Canada, in own back yard on Oct 25/10 at 1:29pm.
Camera; Canon 40D
Lens; Canon EF 100-400 IS USM L lens.
Triopod; Manfrotto, including 498RC2 ball head.
Taken at; 1/500's at f/5.6, -1/3 ev, 285 mm, man white bal 6500 kelvin, iso 800.
Subject distance; 5 meters (16.4 ft).
Histogram adjustment, slight sharpening in lab mode, lightness channel, unsharp mask. No cropping.