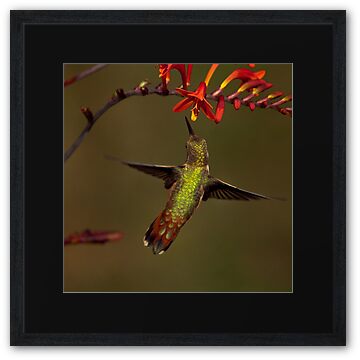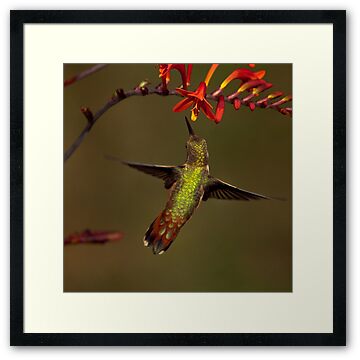 A female Rufous Humming Bird approaching a Crocosmia flower to feed, glows in iridescence from the low afternoon sun.
RUFOUS HUMMING BIRDS
Size: 7-9 cm (3-4 in)
Wingspan: 11 cm (4 in)
Weight: 2-5 g (0.07-0.18 ounces)
"PHOTO INFORMATION"
Taken on July 26/10 at 3:37pm on south East Vancouver Island, B.C., Canada.
Camera; Canon 40D
Lens; Canon EF 100-400 IS USM L lens.
Tripod; Manfrotto,including 498 RC2 ball head.
Taken at; 1/2000's, f/9, -2/3 EV, 400 mm, man wht bal 5750 kelvin, iso 800.
Subject distance 2.9 meters ( 9.5 ft).
Color bal adjustment, slight sharpening, no cropping.