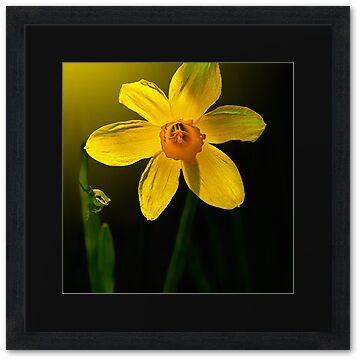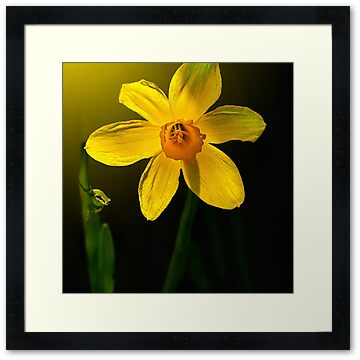 A single Daffodil glows as an early morning sun shines through its petals. A little Pacific Tree Frog hangs onto the Daffodil leaves as the glow from the backlit flower reflects off of it.
"MEANING OF YELLOW"
The shade of yellow determines the meaning. Pure, bright and sunny yellow is the easiest color to see. People who are blind to other colors can usually see yellow. Yellow is full of creative and intellectual energy.
Yellow symbolizes wisdom and means joy and happiness. People of high intellect favor yellow. Yellow daffodils are a symbol of unrequited love. Sunday's color is yellow-gold.
Like the energy of a bright sunny day, yellow brings clarity and awareness. The shade of yellow determines its effect: Clean light yellow clears the mind, making it active and alert.
Put some yellow in your life when you want:
clarity for decision-making
relief from 'burnout', panic, nervousness, exhaustion
sharper memory and concentration skills
protection from lethargy and depression during dull weather.
"PHOTO INFORMATION"
Original photo was taken on April 16/09 at 8:34 am in own back yard ( south east Vancouver island, B.C., Canada).
Camera; Canon 40D
Lens; Canon 100-400mm L IS USM lens.
Tripod; Manfrotto, including joystick head.
Taken a; 1/200's t f /8, 400 mm, man white bal, iso 200.
Made my own background, in PhotoshopCS2, using my own combination of yellow and black in a radial gradient. Set the opacity for the background ( radial gradient to 88%). Added a layer ( overlay-opacity 26%). Pasted the little Tree frog to the foliage from another shot. Sharpened via lab mode, lightness channel unsharpmask ( amount 35, radius 2, threshold 2).