Present turns to past: My creative process
Please excuse my bad English in advance! If something is not clear, let me know…
This artwork was created during SoJIE 16 workshop. SoJIE 16 stands for Solo's 16th Juried Invitational Exhibition of Visual Arts, featuring landscape photography interpreted as traditional or digital art. Photographers were asked to pair up with artists to create their translation of a photographic work into traditional or digital art medium. Translated work happened in an open workshop atmosphere where ideas and works in progress were shared before the artwork progressed to the next stage.
I translated Kenart's "The Light and the Way" (below).
Original work: The Light and the Way by Kenart
I immediately felt related to this photo, because of the intimacy of the two birds. In Ken's birds, I saw a connexion between two souls. My "translation" of this artwork was made in 5 sessions.
First session: Conceive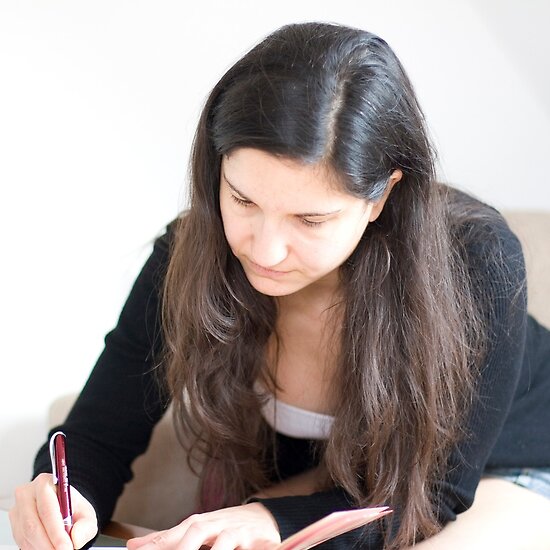 This step takes often the longest time in my process. What do I want to paint? What story is my painting going to tell? What symbols could I use to depict my messages? I don't like painting pictures that don't have something to say – even if that something is not going to make sense or be understood or be liked. So I take the time to reflect.
My train of thoughts:
1 – This is a "Landscape and Light" workshop. So I have to work with lights and shadows.
2 – How to appropriate the play of light and shadow and transpose it into my language? Perhaps imbue the contrast between light and shadow with a metaphorical meaning.
3 – The birds fly over the landscape towards another place. Flying means getting forward, evolving, looking towards the future. Perhaps the contrast light / shadow should symbolize the past / present or the present / future
4 – How to give my own touch to this image, how to avoid copying Ken's concept 1:1? Perhaps attribute a human form to Ken's birds and landscape. So I decided to paint two flying human figures (instead of birds) and to add a solid, static human mountain-like figure in the foreground.
5 – I searched a lot, in my mind or in books, to find inspiration. Just brainstorming, leafing through books, googling words that came to my mind, related to what I wanted to paint. For instance "human like mountain", "contemplating the future", "flying souls"… This is how I found a painting by Edvard Munch, where a compact figure is contemplating a landscape. I "borrowed" the pose of Munch's figure to create a similar figure in my foreground.
Second session: Draw the outlines with pencil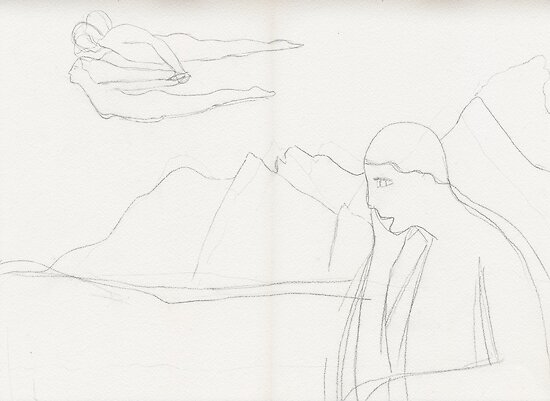 I almost always draw the outlines with a pencil before starting to work with unerasable media, because I don't have enough confidence in my hand. I imitated Ken's mountain and landscape lines and added my own ideas to his concept: the flying figures and the mountain-like figure.
As it is obvious, I was not yet sure about the position of the flying man's head: should he lean his head on hers? Look towards her? Or should he also be looking towards the front?
You should also have noticed that I work from the bottom to the top. Please don't do this at home if you'd like to paint in a neat way and if you don't like stains and errors. I do like stains and errors so I tend to forget the rule "top to bottom". Ink and inktense pencils dry quickly anyway, but I also often use the hair dryer to spare some waiting time.
Third session: Draw the outlines with a brush and ink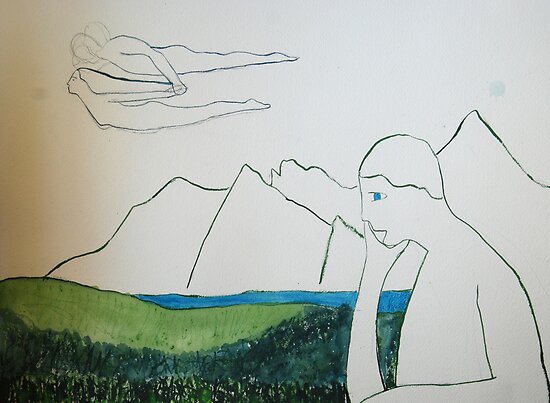 I used "Rohrers Antiktusche (Rohrer und Klingner)" ink in "Paynesgrau" (kind of blue-grey value) and "Lotusgrün" (a deep green). I inked the landscape and foreground figure in green and the flying figures in blue. In this session, I also started to colour the painting with inktense pencils and inks.
Fourth session: Colour the drawing with inktense pencils, ink and acrylics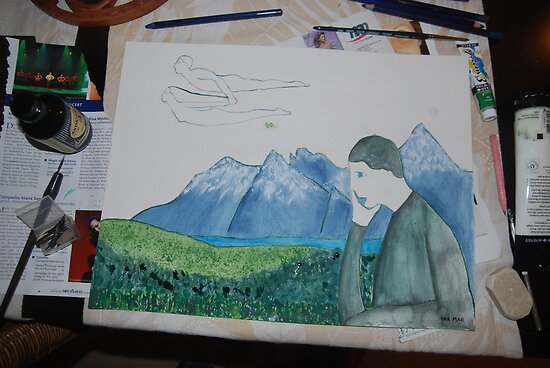 According to Frannie Moore's description of the workshop's aim (Frannie is hosting the group Solo Exhibition and has created this workshop): "It's fine to include humans, animals, birds, aliens or children in the landscape; but for the purpose of this workshop, and certainly if aiming toward SoJie 16 exhibition, we'd rather not see them dominate the landscape, but rather, if anything, the landscape dominate them". Thus I decided to stick to blue and green tones, even for the human figures, in a way that they have an "earthy", "landscape-like" feeling. I used and mixed all my possible blue and green inktense pencils: leaf green, felt green, mallard green, iron green, apple green, dark aquamarine, bright blue, iron blue, lagoon – as well as some brown: "dark", willow and black. I also thinned "paynesgrau" and "lotusgreen" with water to get some supplementary tones.
I tried to paint the three landscape stripes in the foreground with different "textures" (which I achieved through layering) and in different lightings: very dark green, dark green, sunny green, sunny blue (lagoon). My painting language is very flat, schematic and minimalistic, so I tried to create a kind of perspective, depth and light-shadow play through this succession of differently colored and textured stripes of landscape.
Last, I painted snow with acrylics, applied with my fingers.
Fifth session: the final touches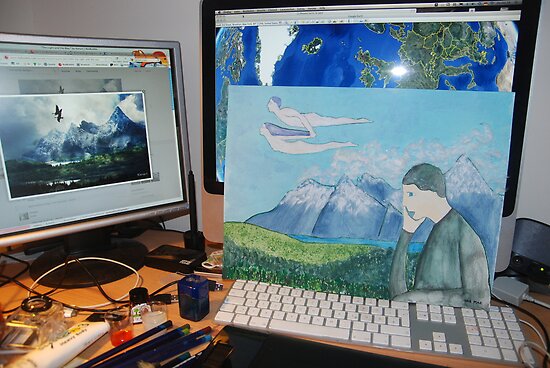 - I painted the sky with a mixture of water and Winsor & Newton blue ink (952). You usually have to thin the Winsor & Newton inks with distilled water (at least that is the indication on the bottle), but I used normal water and I think that is how I achieved this beautiful irregular blue.
- I painted the bodies with water-thinned Winsor & Newton burnt sienna ink (955). For the flying figures, I also used some white acrylics, to give them a "ghostly" aspect.
- I glued some cotton pad pieces as clouds…
Scanning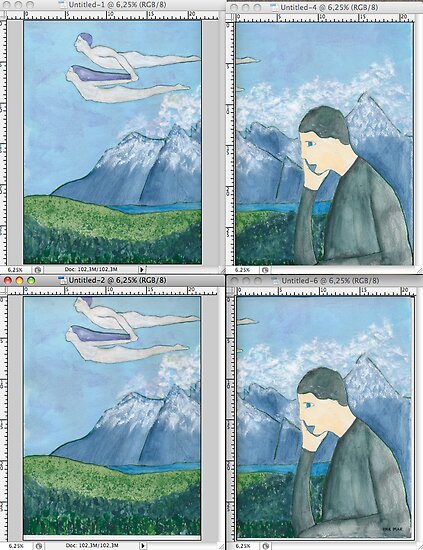 I have an A4 scanner, CanonScan 9000F (which I would by the way warmly recommend, because it has a great color management and is not too expensive). My artwork is 31×41cm (12 1/8″ × 16 1/8") so I had to make 4 scans and mount them in Photoshop. My advice if you have to scan big images with a small scanner is:
1. Don't change the direction of the artwork while scanning the different parts. Try to do the scans without rotating it, even if it is more difficult to scan this way. Why? If you rotate the artwork, the brush strokes are lit from a different side and it is difficult to mount differently lit pieces of the same artwork. I don't know if I was able to explain this in a way that it is understandable…
2. Trim the edges, that sometimes are not perfectly lit, but use the brush to do the trim, so the vertical / horizontal line of the trimming is not visible. For instance, follow a drawn line to trim the scanned piece. I followed for instance the mountain line for the vertical mounting.
3. Before fusing the pieces, zoom the mounted scans and check every cm of the artwork, in case there are areas where the mounting is visible. You can correct those by using the erasor, the clone stamp or the brush.
Finished work: Present turns to past by Ina Mar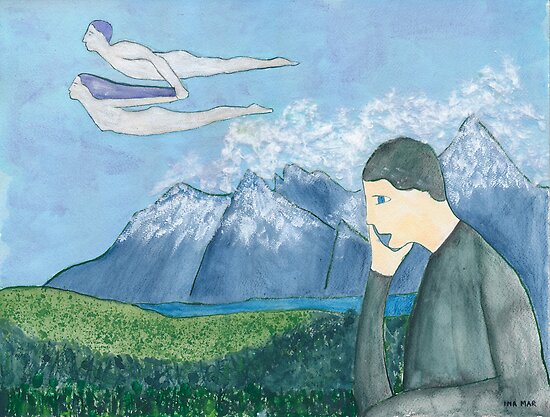 A heavy, solid, mountain-like figure (symbolising the present) is contemplating two spirit-like flying figures (its past or its future or both).
The foreground figure was painted exclusively in green tones while I used blues to paint the flying figures. This colouring symbolizes the contrast between a present that feels attached to the ground, imprisonned in life, unable to move, contemplating a past or a future that are freely flying or moving forward. This is my interpretation of the image, but of course everybody is free to project their own life and thoughts on it. For instance, Kathie Nichols interpreted this a "a dreamer dreaming his dreams", which I really liked!
---
Thanks
The Sojie 16 journey has been a very enriching one, and has created new bonds between us fellow artists. I am looking forward to the next journey in Solo Exhibition!
The hard work and continued support (technical AND moral) by Frannie Moore, as well as each contribution of the participating Solo Exhibition members, has made it possible.
---
My other participations to SoJIE workshops:
---
Cheers to everybody and have fun creating and sharing :)
Ina