About Sempre Legato - The Sketchbook Project Limited Edition 2012
First of all I would like to thank everyone for your support and wonderful comments! I am sorry if this week I didn't have the time to reply to all…
About my sketchbook Sempre Legato
The dolls' parts were carefully assembled with needle and thread. I used one unique thread (a very long thread) to sew all dolls – the thread runs throughout the whole sketchbook, binding the dolls' limbs with the rest of the body and at the same time binding each story with the next one.
My challenge was to conceive and draw each image in combination with the previous and next image, so that the holes for the thread correspond.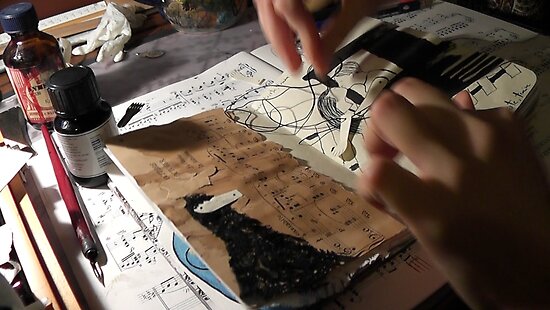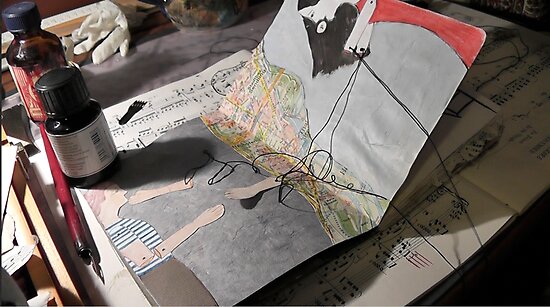 The painted stories talk about distance. There are many types of distance. Distance between our dreams and our realities. Distance between our conscious and our subconscious. Also physical or mental distance between people: distance caused by anxieties, psychological conditions, or distance caused by death, coma, illness, argue, separation, divorce, war, natural phenomena… You are free to project your own stories of distance on my images and caress the thread that destroys this distance.
Painting stories of distance and binding all broken pieces together with one unique thread, in one gesture, symbolizes for me the creative process and the process of life. Some intermediate steps might at times seem unreasonable, disruptive or useless, whereas the ending of the process gives birth to a whole new, unexpected form. Retrospectively, each previous step takes on a new meaning and reason.
Take a look at the complete sketchbook here
At the start I was not feeling really attached to this sketchbook, especially because of the horribly thin paper that gave me a hard time using any of my favorite materials, but the more I worked on it, the more I felt attached to it. I am nevertheless not finding it hard to separate from it, as it will be part of a growing library of artists' sketchbooks from across the world. I am especially excited by the fact that other people will play with my sketchbook too!
In case you don't know what the "Sketchbook Project" is, take a look at this page