A lovely nice wooden bridge over a little Stream.
This little stream is Klein Diep.
The flowers in the Wet Part are in full bloom, love it!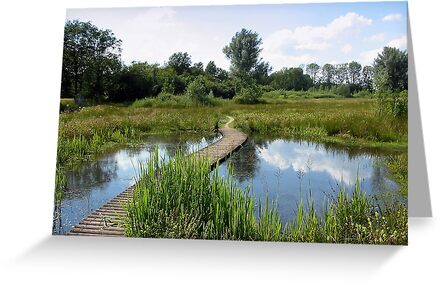 Long time ago it was an important stream. It was one off the three little rivers in this area.
Above Oosterwolde is
River The Tjonger
, in the middle river
Groot Diep
and below river
Klein Diep
.
After many rains, this bridge is Under Water, when its a long time dry and hot weather in summer, the stream is all muddy and full with frogs.
July 7, 2011
Oosterwolde, Provence Friesland, The Netherlands.
Canon Powershot A40
"Wooden Bridge in Summer" was featured in #1 ARTISTS OF REDBUBBLE, August 1, 2011
"Wooden Bridge in Summer" was featured in "Streams & Stream Crossings, August 14, 2011
TOP TEN, 5th place in challenge Walk Way or Road From Your Home Town, in Cee's Which Ways Group, Sept. 30, 2011