There is no water flow here for 10 months of the year but I was lucky enough a few weeks ago; this little "fall" is only about 2ft high, shot closely.
Extremely cold wet feet getting a few shots of these cascades in the Karst Ranges,,but worth it.
If you look closely at the top section you can see the normal flow of the creek!
FEATURED in #1!We Sell Art!Group© The Original (Limit 2 per day),,,Sept 2010
FEATURED in The Silky Touch,,Sept 2010
FEATURED in Cliffs, Caves & Caverns,,Sept 2010
FEATURED in NEW CREATIONS closed Sept 10 thru Sept 18,,,Sept 2010
FEATURED in DSLR Users Group- Only One Artwork a Day,,,,Sept 2010
FEATURED in Wide Angle Photography (2 per 24hr limit) ,,Sept 2010
Located on the slopes of the Great Western Tiers, in an area of over three hundred known caves and sinkholes, the Mole Creek Karst National Park, protects some of the finest and most visited cave systems in Tasmania, Aust. Karst is a Slovene/German word used to describe landscapes formed from the chemical erosion of rocks such as limestone. Aprox 1 hours drive from Launceston, Tas, Australia
Canon EOS 5D Mk2
Tv(Shutter Speed)-T..25 sec's
Av(Aperture Value)-F..22
ISO Speed-125
Lens- Canon-17-40mm F4 L
Focal Length-20mm
Tripod-Benro
Filters-CPL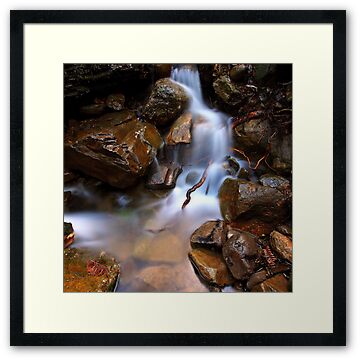 + + + + + + + + + + + + + + + + + +
The images here on RB are only a very small sample of photographs available, so if you're interested in a particular area, or subject matter, please ask as I may have it. You can contact me at this email address below.
Dale.
>> scully450@gmail.com <<
+ + + + + + + + + + + + + + + + +
>> 15th Sept 2010,,, 26 favs, 218 views
The images here on RB are only a very small sample of photographs available, so if you're interested in a particular area, or subject matter, please ask as I may have it. You can contact me at this email address below.
Dale.
>> scully450@gmail.com <<
+ + + + + + + + + + + + + + + + + +
Some other photographs you may be interested in