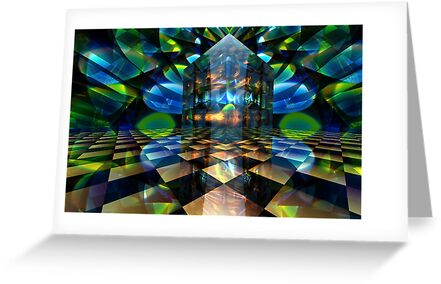 Bryce 7 Pro . . . MacBook Pro . . . No post work . . .
A false perspective created by the use of an extreme wide-angle virtual camera. The highly reflective surface of both the ground plane and the parabolic reflector react with each other to create a multitude of reflections . . .
This image will be re-rendered in a much bigger scale at a later date . . .
. . .
I wasn't going to UL anything while I was in Australia but I liked how this one came out and as it is only postcard size, I'm not using too much of my friends i'net allocation . . .
Made by placing 14 cubes rendered in diamond inside a larger cube also rendered in diamond with 9 radial lights 8 of which are using one fractal image as a gel, with the 9th radial light (at dead centre) using a different fractal as a gel . . .
Behind this cube of cubes is a parabolic reflector that has been rendered with a highly reflected version of the same image as the gel in the central radial light . . .
15 Cubes HR . . .