Gothenburg, Sweden is situated on the river Göta Älv at its outlet into the North Sea and the Atlantic.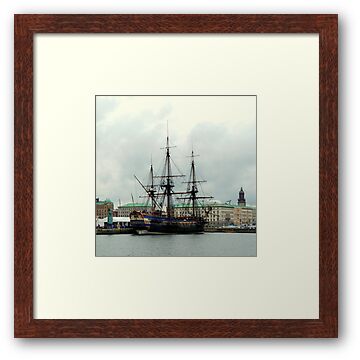 This summer the East Indiaman "Götheborg" is anchored in the harbour.The original ship sank (or was she sunk for insurance reasons?) just outside the port of Gothenburg, some 250 years ago with her cargo of china and tea. All sailors survived, but the ship was lost.

Since the wreckage of the vessel Götheborg was found in 1984, the idea emerged of making a replica of the vessel. Divers endeavered to rescue what could be retrieved, and enthusiasts worked for years to finance and build this replica.

After various tests and achieving its safety certificates from Det Norske Veritas, the vessel sailed for China in October 2005, like the original ship did, but it did not follow the same route. The "Götheborg" berthed at the Victoria and Alfred Waterfront in Cape Town, and then left for Hout Bay before continuing on its voyage. Among the harbours visited were Cádiz, Recife, Cape Town, Hong Kong, Singapore and Shanghai.
The voyage took about one and a half years.
The "Götheborg" returned to Gothenburg June 9, 2007, welcomed by the president of China, Hu Jintao, who visited Sweden mainly for this reason, and by the King and Queen of Sweden, Carl Gustaf and Silvia. The ship was also welcomed by thousands of private boats, and a hundred thousand spectators on shore.( And I was one of them:) )
During the recent Crown Princess wedding in Stockholm on June 19th 2010, the "Götheborg" honoured the event with her presence.