A visual tribute to Escher's unique vision.
The juxtaposition of the stepped forms of the underside of the bleachers and the arches above the outer walkway of the football stadium… strike me as an Escher drawing of some impossible construction.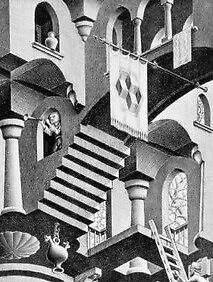 detail of an Escher drawing
Nikon D90 / NIKKOR 18-200
Lightroom processing – saturation, fill, contrast, sharpen.
FEATURED in Shapes & Patterns Group 5/26/11
FEATURED in Nikon Users Group 5/27/11