Minimalism Workshop in Solo Exhibition
This is the beginning of a new project for me in the Solo Exhibition Group here on RB. I participated in a workshop last fall that resulted in a finished painting (after chasing the blank canvas around my studio for 10 years)… and gave me a good shove toward a more active participation in my local art community.
The community inside Solo is fantastically supportive and encouraging… everyone taking their cue from Frannie Moore whose energy, creativity and organizational skills know no bounds. If you have not yet visited the Solo Exhibition Group here on RB, please make it a point to do so and enjoy the individual galleries and workshops. But, if you really want to jump start your own creative process… sign up and participate in a workshop!!

I'm writing this Journal to keep the my progress in the Minimalism Workshop and the progress of this work… in one place so I can keep a record of it for myself… and refer to it's parts without scrolling through the workshop thread itself. This is a two month long workshop and the thread with many people participating and posting their Works In Progress during the length of the workshop, the thread can get very long. Here's what's happened so far…
Photographer members of Solo have posted photographs that they are willing to have artists make a translation of… or have used as reference… for a non-photographic work. These photos are all in a CATALOG which artists can look through and use with permission to create a new work. I've chosen this work by my RB friend francis.
I've been stewing over the desire to create a sculptural work for an outdoor area that we just had the underbrush removed from. It's just off a new screened porch that we'll use all this summer and is crying out for some piece of art. I just didn't know what!!… until I saw this photo image that francis had posted. We're near the Massachusetts shore here and on the Eastern North American flyway… with many different kind of birds all year round… so this immediately started the brain working with possibilities for an outdoor sculptural installation. Here's one of the areas that I think it will work in: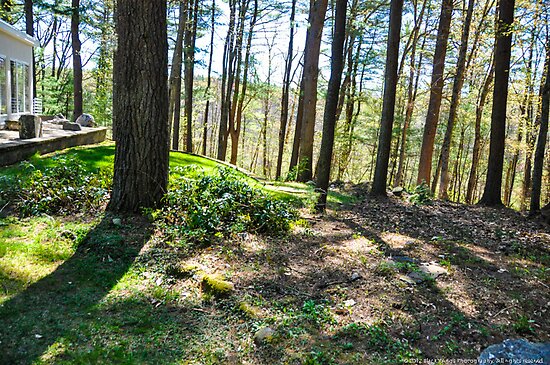 This is one option for installation. The actual site is so important when considering the height and width of the sculpture. The trees here are huge. I don't want the piece to get lost in the vastness of the woods.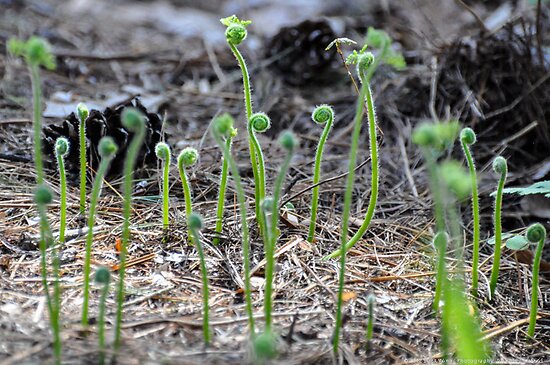 The fern cover in this area would make a wonderful "base" for a vertical sculpture.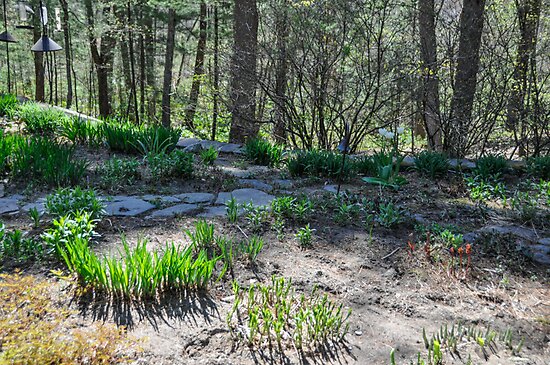 This is an alternative location… a perennial garden. It's just coming up but will be several feet tall in mid-summer and could be an awesome spot for a sculpture. I'm not limiting the placement to just these two locations but these are good ones that are top of mind at the moment.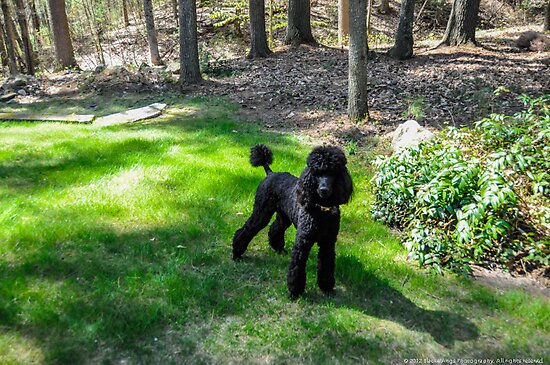 This is my assistant, Jack. (very helpful, of course!)
Not every piece starts off considering the location of where it will be installed. But, in this case, it will be so specific to a location… and the size and color so important to the overall impact of the piece… that I thought it important to start with these elements in mind.
Next step… sketching with locations in mind for scale, materials, color, etc.
8 May 2013
Things are moving along. I've decided that there will be multiple vertical "poles" or "pilings" that the objects will be atop. The size of the space is just too big for a single piece. In this sketch I've put birds atop each of the pilings for simplicity. I don't know if there will be all birds… or other objects… right now it's open.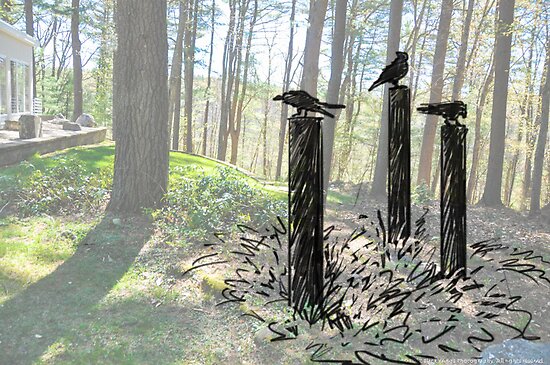 I'm thinking about the number of these pilings, the different heights they should be and the width dimensions. A lot will depend on the materials I choose to work with.
Possible materials:
.Concrete poured into tubes with re-bar for strength. Painted.
.PVC pipe held in place with concrete footings. Painted.
.Metal piping attached to footings. Powder-coated.
.Granite columns (square) with footings. Cast silicone bronze objects.
I don't know what the objects will be made of yet but if they are cast, the timing will be off for finishing the project at the end of June. I have a two week period where I'll be traveling right in the middle of the time period. I will have to settle for mockups and let the wax sculpting and casting dictate when it will all be finished. More thinking needed.
I've also been considering the color of these objects and this is a digital sketch based on my sketch above that shows a suggestion of a bright color combination and showing the ferns and how they might look when they are in mid summer.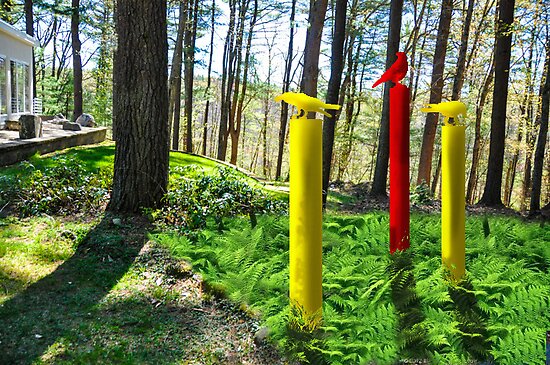 This is only a sketch and there is still a lot of planning to be done. I like the way it's moving but who knows where it will end up. That's the fun of it!! :)))
1 July 2013
It's an understatement to say that the last few weeks of June are a total BLUR to me. Time passes so quickly!!! I had to go back in the pages of the workshop to see just where I had left off in my sculptural interpretation of Francis' lovely "Difference" photo image.
Shortly after the initial sketches and planning, I left for an extended trip to Rome with my husband… and the whirlwind started before I had even stepped foot back in my studio. All the distractions, interruptions and delays aside, I was able to get my translation done…
A few notes about the continued process… I ended up sculpting the birds out of polyfoam (like insulating foam board) in a rough shape… with polymer clay applied to the foam as a shell and details sculpted in the surface. Then it's baked in an kitchen oven for about 45 minutes. When it's cool it can be sculpted further with sandpaper, and sharp tools like a router or file. I like to use a Dremel tool. The "pilings" are PVC pipes with red enamel same as the birds. The pilings are imbedded in concrete footings. My "mockup" digital sketch showed yellow and red used but in the end I chose just the red. The combination of colors had a "playground" feel to the installation that the all red did not. It's a really brilliant color and staring at them with all that saturated green in the woods and fern bed makes the colors vibrate. I think it's a decision that fits the title of the original inspirational image… Difference.
The final installation of my Difference.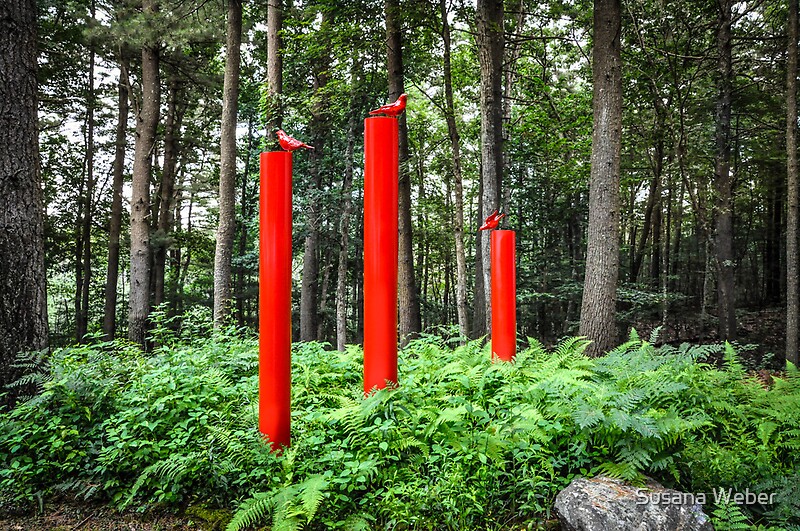 And a couple of detail images. I was hoping for a sunnier day but no luck… raining again!!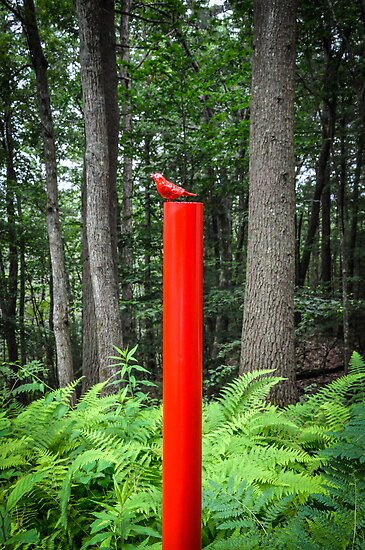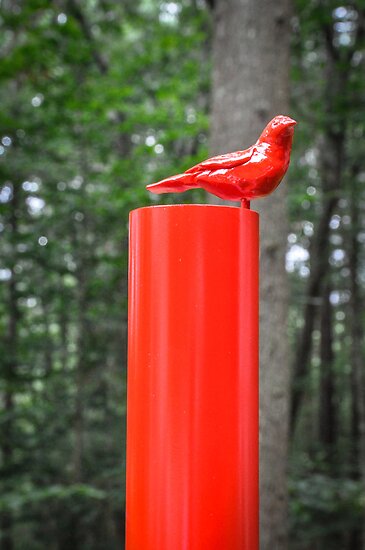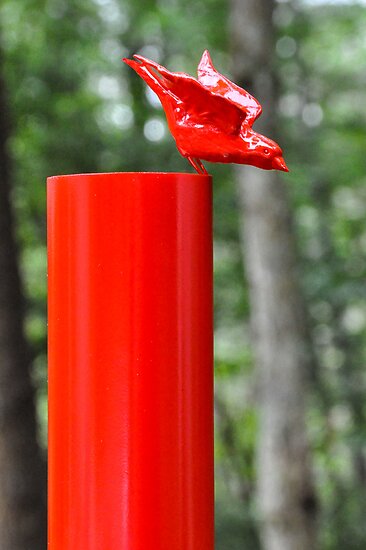 While I love the bright color of this piece, I really want to go further and create a different piece based on it and the inspiration of Francis' lovely and simple photo image… but this time sculpting in clay or wax and having the birds much more detailed and cast in bronze… atop granite pillars. The experience of being in Rome and walking in the ancient places made me want to make this a work that will last a long time. So…
… to be continued. :) Thank you, Francis… and thank YOU, Frannie… for this wonderful opportunity and the inspiration of the workshops!!