Hierdie varkie het my so laat terugdink aan sorgelose kinderjare op die plaas Onverwacht, 5 myl (toe was dit nog myl ja…) buite Bronkhorstspruit. Gauteng (toe was dit nog Transvaal) Suid-Afrika.
You saw a flying pig today?
Well then it must be true'
That dreams and hopes are the way
To see a problem through.
For no-one hopes quite like a pig,
Who wants out of his sty.
He squints and grunts and thinks real big,
While aiming for the sky.
I guess there are a lot of folks,
With goals that loom as great,
As a wishful pig who wants to coax
Some changes to his fate.
The fact you saw a pig with wings
Is proof enough for me.
Good tidings come from faith and bring
A chance you'll fly as free.
Lynne Sosnowski, Waterloo, Ontario, Canada
Gouache Paint on watercolour paper & Parker Pen.
GOUACHE ART
FEATURED in Sketching & Drawings
30 June 2011.
FEATURED in Show us your Bloopers
2 July 2011.
FEATURED in A Place to Start
3 July 2011.
FEATURED in Tuesday Afternoon
10 Jan. 2013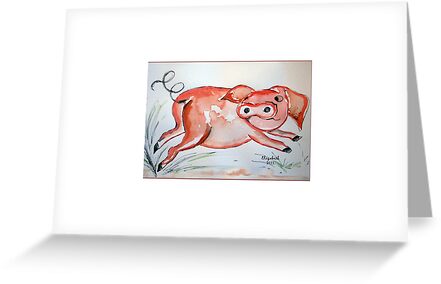 A card


A laminated print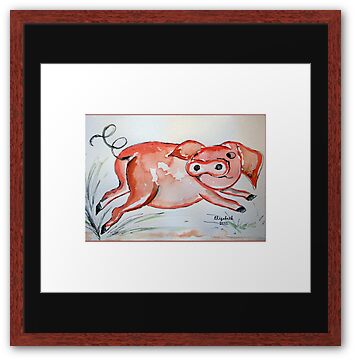 A framed print