The guineafowl, native to Africa
ART: Wildlife in Africa
FEATURED in Image and Ideas
28 June 2011.
FEATURED in Sketching & Drawings
28 June 2011.
FEATURED in Painter's Universe
28 June 2011.
FEATURED in Wildlife of Southern Africa
2 July 2011.
FEATURED in Art Universe in the PAINTBOOK MARATHON
27 Aug. 2011.
FEATURED in Art Universe
27 Aug. 2011.


A laminated print
The Helmeted Guineafowl (Numida meleagris) is the best known of the guineafowl bird family, Numididae, and the only member of the genus Numida. It breeds in Africa, mainly south of the Sahara, and has been widely introduced into the West Indies, Brazil and southern France.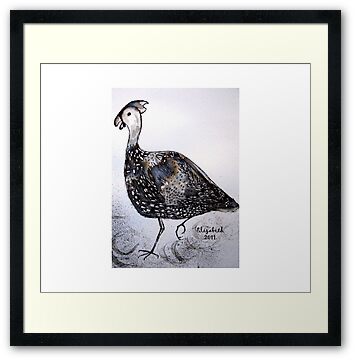 A framed print
It breeds in warm, fairly dry and open habitats with scattered shrubs and trees such as savanna or farmland. Males often show aggression towards each other, and will partake in ravenous fighting which will leave other males bloodied and otherwise injured. Attempts at making themselves look fearsome is when their wings raise upwards from their sides and feathers bristle across the length of the body, or they may also rush forwards with a gaping beak. The nest is a well-hidden, generally unlined scrape and a clutch is normally 6-12 eggs which the female incubates for 26–28 days. Nests containing larger numbers of eggs are generally believed to be the result of more than one hen using the nest; eggs are large and an incubating bird could not realistically cover significantly more than a normal clutch. Domestic birds at least, are notable for producing extremely thick-shelled eggs that are reduced to fragments as the chicks hatch, rather than leaving two large sections and small chips from where any chick has removed the end of the egg. It has been noted that domesticated Guineahens are not the best of mothers, and will often abandon their nests. The chicks are cryptically coloured and rapid wing growth enables them to flutter onto low branches barely a week after hatching. These guineafowl live as long as 12 years in the wild.


A mounted print
Pen, ink and water on 190 gsm paper.
SKETCHES



THANKS to Maree Clarkson
who bought a card from me today: 5 Aug. 2011.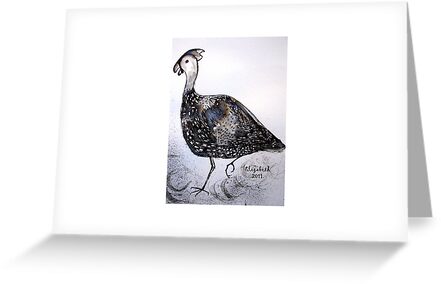 A card