This is my imaginitive drawing and painting of a TOWNSHIP somewhere in Africa.
Waterpaint and ink on 120gsm paper.
(done for drawing Day: 4 June 2011)



on 30 April 2013 to Heather Thorsen from Denmark. Thanks so much Heather!
FEATURED in Inspired Art
5 June 2011.
ERKENNING in Afrikaans is my Moedertaal
30 Junie 2011.
FEATURED in Painter's Universe
6 June 2011.
One of the TOP TEN in a challenge: Street Scenes in Afrikaans is my moedertaal/ Afrikaans is my mother tongue
6 July 2011.
FEATURED in Explore
1 May 2013.
FEATURED in Image Writing
1 May 2013.
FEATURED in A Place to call Home
13 May 2013.
FEATURED in Exquisition
19 September 2013.


A mounted print
I love languages and include the following list of slang borrowings from the Nguni languages (which include Zulu and Xhosa). They typically occur in use in South Africa's townships, but some have become increasingly popular amongst white youth. Unless otherwise noted these words do not occur in formal South African English.
chaina – my mate (from Zulu, 'my nephew'); umshana
chaile – time to go home
cocopan – small tip truck on rails used in mines (from Nguni nqukumbana, Scotch cart)
donga – ditch of the type found in South African topography. (From Zulu, "wall"; this has become a mainstream word for such a feature.)
eish! – an interjection expressing resignation (very popular!)
fundi – expert (from Nguni 'umfundisi' meaning teacher or preacher) – used in mainstream South African English
gogo – grandmother, elderly woman (from Zulu, ugogo)
haw! – expression of disbelief
hhayibo! – wow! (from Zulu, 'definitely not')
indaba – conference (from Zulu, 'a matter for discussion'); has become a mainstream word in South African English
inyanga – traditional herbalist and healer (compare with sangoma)
jova – injection, to inject (from Zulu)
laduma! – a popular cheer at soccer matches, "he scores!" (literally: "it thunders", in Zulu)
muti – medicine (from Zulu umuthi) – typically traditional African
Mzansi – South Africa (uMzantsi in Xhosa means "south")
sangoma – traditional healer or diviner
shongololo (also spelt shongalolo) – millipede (from Zulu and Xhosa, ukushonga, 'to roll up')
spaza – an informal trading-post/convenience store found in townships and remote areas
toyi-toyi – protest-dancing; used in mainstream South African English
tsotsi – gangster, layabout, no gooder
ubuntu – compassion or kindness, humanity
yebo – Zulu meaning yes
wena – Zulu meaning "you". Commonly used in a sentence "Haw wena!"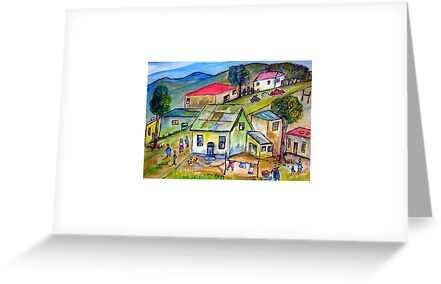 A card


A laminated print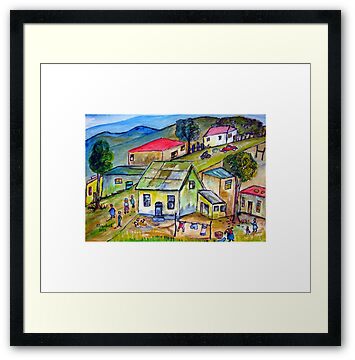 A framed print