My favourite wild animal!
Latin name: Giraffa Camelopardalis
Click here to see all my PHOTOS
FEATURED in Just Fun
27 February 2011
FEATURED in Hometown Photography
28 February 2011.
FEATURED in African Art and Photography
5 March 2011
FEATURED in Indigenous to East and Southern Africa Group
7 March 2011
ERKENNING ontvang in Afrikaans is my moedertaal
9 Maart 2011
ONE OF THE TOP TEN in a challenge in Wild Africa
28 May 2011.
FEATURED in Animal Captions and Confessions
2 Sept. 2011.
One of the Top Ten in a challenge in Wildlife of Southern Africa
18 Sept. 2011.
FEATURED in Tuesday Afternoon
23 Nov. 2011.
FEATURED in Mood and Ambience
23 Nov. 2011.
FEATURED in Art for Sale
23 Nov. 2011.
FEATURED in Welcome to the Jungle
29 Nov. 2011.
FEATURED in EXPLORE
19 Jan. 2013.
FEATURED in A Place to call Home
20 Jan. 2013.
FEATURED in Love these creatures
21 Jan. 2013
FEATURED in Your Country's Best
21 Jan. 2013.
FEATURED in Even-Toed Angulates
3 Febr. 2013.
The giraffe is the tallest animal in the world, attaining a height of 5.5m, its incredibly long neck accounting for much of its height. The long neck has resulted in a complex blood circulatory system, which is not yet fully understood by zoologists. Adult males generally reach a height of about 5 metres and females about 4,5 metres. Big males can weigh a massive 1 200 kilograms while females usually weigh some 800 to 900 kilograms. Their skin colour is tan with light brown patches on females and dark brown patches on males. Both males and females have short horns covered in skin.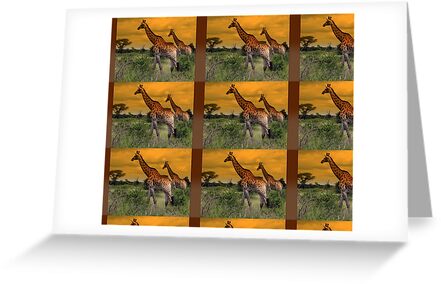 Weight (Female): 800 kg
Weight (Male): 1 200 kg
Gestation Period :15 months
No of Young:1 calf (exceptionally 2)
Sexual Maturity: 4, 5 years
Birth Weight:102 kg
Order:Artiodactyla
Family :Giraffidae
Running Speed:55 km/h
Breeding:
A single young is born anytime during the year after a gestation period of about 15 months.
Canon PowerShot S51S
Picasa-edit.
Kruger National Park, South Africa

The Giraffe
(Don Mulford )
Giraffes are lucky they're so tall;
They make us humans feel so small.
They simply look down on us all.
Those elegant giraffes.
They'll eat the leaves from topmost bough,
Which only lengthy necks allow,
Then graze between their feet somehow.
Those picturesque giraffes.
But one thing we can not ignore;
I've thought of this oft times before.
How dreadful if their throats got sore!
Those lengthy necked giraffes.