One of the Big Five in Africa
Canon PowerShot S51S
Photo: Kruger National Park, South Africa
PHOTOGRAPHY: Wildlife in Africa
FEATURED in Your Country's Best
23 February 2011.
FEATURED in African Beauty
28 February 2011.
FEATURED in Wildlife of Southern Africa
FEATURED in Welcome to the Jungle
19 Oct. 2011.


Thanks to the wonderful person who bought a card today! ;-)
2 June 2011.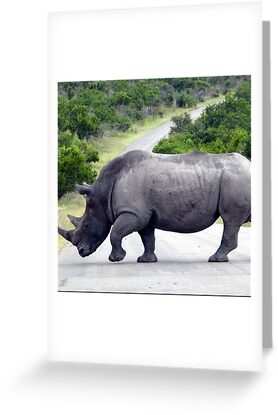 A card


You wanted to say?… (This is a white Rhino)
Size: The rhinoceros stands about 60 inches at the shoulder.
Weight: Black Rhino: 1 to 1½ tons. White Rhino: over 2 tons.
Habitat: Grassland and open savannahs. Black rhinos have various habitats, but mainly areas with dense, woody vegetation. White rhinos live in savannahs with water holes, mud wallows and shade trees.

Diet: Vegetarian. Black Rhino – browser. White Rhino – grazer.
Diet Description: The black rhino is a browser, with a triangular-shaped upper lip ending in a mobile grasping point. It eats a large variety of vegetation, including leaves, buds and shoots of plants, bushes and trees. The white rhino is a grazer feeding on grasses.
The Rhinoceros Socialisation: Rhinos live in home ranges that sometimes overlap with each other. Feeding grounds, water holes and wallows may be shared. The black rhino is usually solitary. The white rhino tends to be much more gregarious. Rhinos are also rather ill-tempered and have become more so in areas where they have been constantly disturbed. While their eyesight is poor, which is why they will often charge without apparent reason, their sense of smell and hearing are very good. They have an extended "vocabulary" of growls, grunts, squeaks, snorts and bellows. When attacking, the rhino lowers its head, snorts, breaks into a gallop reaching speeds of 30 miles an hour, and gores or strikes powerful blows with its horns. Still, for all its bulk, the rhino is very agile and can quickly turn in a small space.
The rhino has a symbiotic relationship with oxpeckers, also called tick birds. In Swahili the tick bird is named "askari wa kifaru," meaning "the rhino's guard." The bird eats ticks it finds on the rhino and noisily warns of danger. Although the birds also eat blood from sores on the rhino's skin and thus obstruct healing, they are still tolerated

Lifespan: 35 to 40 years.
Reproduction: Young are born after a gestation period of 16 months.
Predators: Humans. Man is the cause of the demise of the rhino. In the wild, the adult black or white rhino has no true natural predators and, despite its size and antagonistic reputation, it is extremely easy for man to kill. A creature of habit that lives in a well-defined home range, it usually goes to water holes daily, where it is easily ambushed. The dramatic decline in rhino is unfortunate in an era of increasing conservation but efforts are underway to save the rhino from extinction.

The black, or hooked-lipped rhino, along with all other rhino species, is an odd-toed ungulate (three toes on each foot). It has a thick, hairless, grey hide. Both the black and white rhino have two horns, the longer of which sits at the front of the nose.