a Greeting Card to an anounymous buyer on 23 February 2014. Thanks so much!
Inspired by Maree Clarkson's
and Barbara Glatzeder's and Dianne Ilka's art and their use of coffee as a background for many of their beautiful work, I painted the background of this sketch with coffee too.
We all know that: Imitation is the sincerest form of flattery. Thanks for the inspiration! ;-)
HB pencil sketch on 200gsm paper. (Original sold)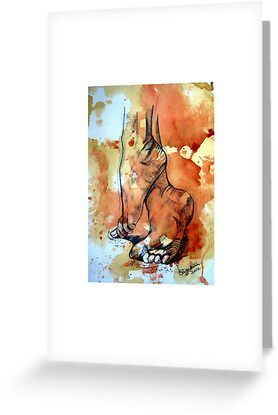 A card
Click here to view all my PENCIL SKETCHES
29/4/2011:
FEATURED in Live, Love and Dream
9 October 2010.
FEATURED in the First Things Group
11 October 2010.
WINNER in a Challenge "Legs" in Painters' Universe
20 October 2010.
FEATURED in African Art and Photography
31 October 2010.
One of the TOP TEN in the challenge: Uncover your legs in Inspired Art
11 February 2011.
One of the TOP TEN in Quality Art and Photography
9 March 2011.
Click here to share the joy
FEATURED in Quality Art and Photography
10 February 2011.
FEATURED in Artists of RedBubble
11 April 2011.
FEATURED in Fantastic Primitive Art
29 April 2011.
One of the TOP TEN in a challenge in This & That
8 May 2011.
PIC OF THE DAY and on the permanent feature page of All Things Coffee
27 May 2011.
FEATURED in Art Universe, Paint Book Beauties
20 June 2011.
Tied for 1st Place in ART UNIVERSE, Featured Painted Beauties
27 June 2011.
FEATURED in Moody and Evocative
8 Dec. 2011.
FEATURED in Harmonious Hippies
9 Dec. 2011.
FEATURED in ART UNIVERSE: Classy Gallery
14 Dec. 2011.
FEATURED in Exquisition
24 Jan. 2012.
FEATURED on the Homepage of RedBubble
16 September 2013.
FEATURED in You got it, we want it
18 September 2013
FEATURED in Feminine Intent
21 September 2013.
FEATURED in Image Writing
25 February 2014.
FEATURED in 5 Group
1 March 2014.
FEATURED in Pen and Ink Corner
10 March 2014.
People obviously enjoy going barefoot.
Going barefoot is fun! The whole world knows it. Splashing barefoot in the puddles of a warm, spring rain is a pleasure to which I think everyone can relate. Unfortunately, most people seem to relegate this to a pleasure reserved for childhood.
There is no reason why a grown person should deny herself the simple pleasure of dancing around barefoot in rain puddles. (I love it….must be part of my artistic nature!)

A matted print


A mounted print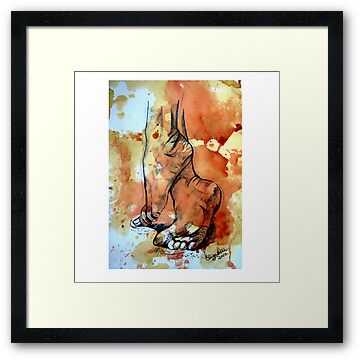 A framed print