135 views: 11 June 2011.
Elim, situated in the southern-most region of Africa is one of the most attractive and picturesque of the surviving old-time South African mission stations, only inhabited by members of the Moravian church. Founded in 1824, it has changed little since. Beautifully thatched, white-walled little cottages, charmingly varied in their rooflines and the styles of their eaves and windows, face onto a furrowed and figtree-lined main street.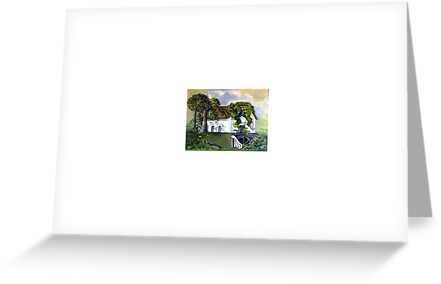 Elim – die dorpie wat hulle 'n lewende museum noem en waar hulle 'n taal van hulle eie praat. Ons leer 'n hele paar nuwe sê-dinge op Elim:
Moet nie met my Twice Five nie – of moet nie met my skoorsoek nie. Moet nie so op-se-kaaps wees nie – of jou Kaapse maniertjies uithaal nie. Ek gaan juk-ui eet – of 'n geheim verklap. En daardie geheim is dat net boorlinge is van Elim wat hier mag huise koop. Buiten dat die dorpie 'n Nasionale monument is, is dit ook die tweede oudste sendingstasie in die land.
Die sendingstasie het sy ontstaan gehad toe die boere hier in die Strandveldomgewing 'n behoefte uitgespreek het vir 'n kerk. In 1824 het die Morawiese Kerk die plaas Vogelstruiskraal gekoop en so is Elim gebore. Elim kry sy naam uit die Bybel uit Exodus waar dit vertel van die Isrealiete wat nadat hulle deur die Rooi See is, by Elim gekom het – waar daar 12 waterputte was. Daar is ook 16 fonteine op Elim en die skoonheid van die dorp lê in die argitektuur. Hier kan jy die tradisionele strandveld huisies sien, met 'n deur in die middel en twee klein vensters aan weerskante. Elke huisie het ook 'n bakoond buite en natuurlik het die meeste van die huisies nog die tradisionele rietdakke.
Hierdie is my eie weergawe van die gerestoureerde watermeul wat by Elim te sien is.
FEATURED in Artists of RedBubble
16 September 2010.
FEATURED in Painters Universe
27 September 2010.
FEATURED in A Place to call home
1 December 2010.
FEATURED in African Beauty Group
3 December 2010.
FEATURED in Paint Book, a subdivisoin of Art Universe (Permanent Feature Page)
29 June 2011.
On 12 May 1824 Bishop Hallbeck of the Moravian Church acquired the 2 570 ha farm Vogelfontein (bird fountain) from Johannes Schonken. On Ascension Thursday, 12 May 1825, the name was changed to Elim (palm trees) and a mission was established around the original farmhouse built in 1796 by a Huguenot named Louis du Toit. Neat little cottages were built to house the community, mainly freed slaves. A substantial church became the pivot of the settlement. Today it forms the heart of Elim, palm trees still grace the church yard and the only monument to commemorate the freeing of the slaves in 1834, can be found here ~ many of whom found safe haven in Elim.
One of the last of the working water-mills of the Cape is in Elim. In its heyday the mill had a curiously graceful air of old-fashioned elegance. Its heavy, slow-turning grindstones produced whole wheat flour of superb aroma and taste. The whirr of its racks, the rumbling of the grindstone and the merry splashing of water created an atmosphere of honest work and pride in its production. The mill was declared a national monument in 1974. For a long time dilapidated, was formally opened on 21 April 1990. At the Old Mill Tea Room the most delicious Elim biscuits and 'mosbolletjies can be sampled – a product from the flour from the mill.
Elim is renowned for its thatch roofs. Elim thatchers are sought after craftsmen and each year, just before Easter, all the houses are white-washed, the colour white being a symbol of purity and simplicity, also omnipresent in the church and an integral part of the village's life style.
On your way through the beautiful Overberg, several gravel roads lead to Elim. Visit this charming village, a declared national monument in its entirety and find out why Elim has changed little since yesteryear.

The biggest wooden wheel at any water mill in the country is in Elim, as well as the only monument ever erected to celebrate the emancipation of slaves, and the church, which dominates the village, lie on the axis of the main road. All are worth a visit.
Oil on canvas. The original is sold.