Dedicated to my friend Maree Clarkson who loves her chickens with all her heart! (South Africa)
From my collection: ART FOR CHILDREN
FEATURED in Art Universe
24 Oct. 2011.
FEATURED in Quality Art and Photography
26 Oct. 2011.
One of the TOP TEN in a challenge: What is orange in Dutch Showcase
27 Nov. 2011.
FEATURED in Women Painters
9 December 2012.
FEATURED in Just for you
15 Jan. 2013.
Waterpaint, wax crayons, pen and ink on paper.
Sayings:
What the hen said when she saw the scrambled eggs……my children are all mixed up!
The rooster may rule the roost but the hen rules the rooster!
"A hen is only an egg's way of making another egg." – Samuel Butler
SOLD FOUR CARDS on 27 July 2010.
Thanks to Maree Clarkson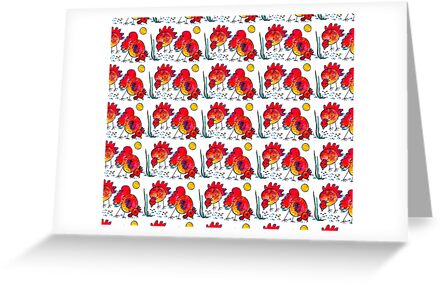 a Greeting card to an unknown buyer, thanks so much!
9 April 2012.



two Greeting Cards to an unknown buyer. Thanks so much!
25 August 2012.



another Greeting Card to an unknown buyer. Thanks so very much!
29 Jan. 2013.
FEATURED in Live, Love, Dream
20 March 2013.