Thinking about the Transkei, (South Africa) I painted this.
Much of the region is grassland with the hardy Alpine Veld in the Drakensberg and Highland Sourveld over the central region. Although the inhabitants of Transkei all share the isiXhosa language, there are, in fact, several markedly different tribes including the Pondo, Bomvana, Pondomeise, Thembu, and the Xhosa tribe itself. The people live under chieftancies and retain the customs and traditions of their cultural group. Maize and millet are the most commonly grown crops, with cattle, goats and chickens being kept by many families. The clusters of thatched bungalows, painted in various bright colours, are a characteristic feature of the Transkei landscape.



SOLD a Framed Print on 13 June 2012. Thanks so much to the anonymous
buyer! Much appreciated.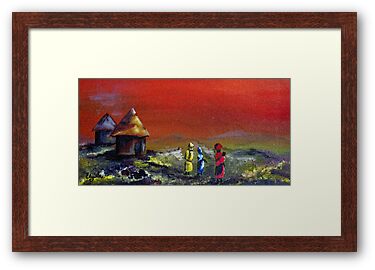 "Anderkant die Keirivier lê 'n wye land,
nie ver van hier."
Acrylic on hardbord, original framed.
ART: Acrylic
FEATURED in the INSPIRED ART GROUP
13 August 2010.
One of the TOP TEN in African Art & Photography
27 October 2010.
FEATURED in African Beauty
17 Jan. 2011.
ERKENNING ONTVANG in Afrikaans is my moedertaal
27 Januarie 2011.
FEATURED in Amazing Challenge Entertainment
28 February 2011.
FEATURED in Painting the Country Life
15 March 2011.
FEATURED in Sold
1 July 2012.
FEATURED in Mozambique and neighbouring Countries
19 Aug. 2012.