Waterpaint: a creative way to paint which I enjoy so much!
To see these trees during spring in Pretoria, South Africa, is such a joy!
As dit jakarandatyd is in Pretoria, is dit ook eksamentyd. Val daar 'n pers jakarandablommetjie op jou kop, gaan jy gelukkig wees en AL jou vakke slaag!
on 16 March, 2010
Thank you so much!
To view ALL my TREES, click here
Featured in Inspired Art
5 September 2010.
TopTen In Hand drawn or Painted Art of Happiness and Joy
10 September 2010
FEATURED in Show us your Bloopers
9 April 2011.
FEATURED in Dutch Showcase
10 April 2011.
FEATURED in Artists of REDBUBBLE
11 April 2011. (marathon page)
One of the TOP TEN in the Jacaranda Challenge in Trees, beautiful trees
20 April 2011.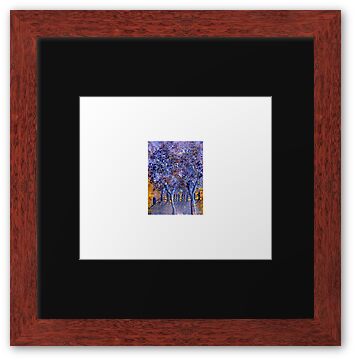 on 11 July 2010, thank you so much!!


A mounted print