FEATURED in EXPLORE
5 June 2012.
I painted this while thinking…longing for my youngest child. We lived right next to each other (in South Africa) and then they moved away. It was hard to get used to the new circumstances – my emotions a rollercoaster – one day up, one day down. To paint is a great and wonderful consolation.
Oil on canvas.
ART: Oil
NEWS:
On 20 August 2010 I published my first BOOK: Huppel op die Hoogland. (Afrikaans Poetry):

I used "My Emotions" as a cover for my book.(Afrikaans Poetry) A long-lived dream come true! Praise God!
Featured in ATMOSPHERIC LAND & SEASCAPES on Red Bubble: April 2010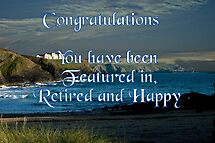 on 23 July 2010. Thank you ever so much!!
FEATURED in Atmospheric Land and Seascapes
7 May 2011.
FEATURED in International Showcase
28 May 2012.
FEATURED in Decorative and Traditional Art
5 June 2012.