WELCOME!
Thank you very much Redbubble for the opportunity to show my work and get inspiration from the great photos and art on the site.
Please visit my facebook page: Elizabeth's Art.
YOU ARE WELCOME TO VIEW MY ART ON
South African Artists.com and
Paintings I love
Vir my Afrikaanse vriende wat graag gedigte / rubrieke lees, kom kuier
op my blogs:
Kreatiewe Joernaal, Speel-Speel en Stories uit my skooltas
asook my facebookblad: Verse en vrolikhede
I love art! I love to be creative. I adore my camera.
I love to work with the palette knife using acrylics and oil. The art of knife painting is enjoyable and exciting. With a knife as painting tool, one can attain certain effects that cannot be accomplished with a brush. There is so much freedom in abstract art, there is so much joy! The more I do it, the more I get addicted and love it!
I also love to draw naive pictures, easy going, simple art and sketches. It always puts a smile on the face of the viewer. And a smile in my heart.
Landscapes and trees, a more realistic and impressionistic kind of art in oil or acrylics, is also on the top of my list of favourite-to-do things!
And then, my camera: love to take photos of birds, nature… all the wonderful and God-given beauty around us.
May you enjoy my portfolio as I enjoy all the beautiful and inspiring work here on RedBubble.
All Images copyright © Elizabeth Kendall – All Rights Reserved. Copying, altering, editing, displaying or redistribution of any of these images without permission is strictly prohibited.
Examples of commissioned paintings:

Whisper (Maine, USA. September 2010)

This is Life! (Toronto, Canada. January, 2012)

The happy ending (Michigan, USA. May 2012)

August 2011.


Autumn makes me sing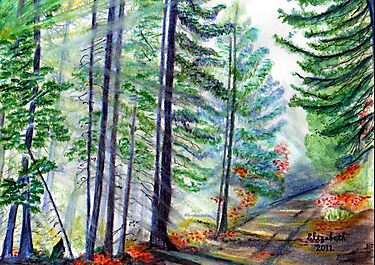 The light of Heaven
Join me at the Juried Invitational Exhibition…


A river in Africa
All images clickable

August 2012 Juried Invitational Exhibition


Join me at the Juried Invitational Exhibition…


After the storm


April 2013.
MY WORK HAS BEEN NOMINATED FOR SoJie 22!


Colour is fun!


Ming Myaskovsky Fine Art Award
Outstanding Scenery Painting
SoJie 22, June 2013
My work has been nominated for SoJie 24!


September 2013 Juried Invitational Exhibition