Photograph was taken at the Normandy American Cemetery and Memorial, Normandy, France, 2011.
This was one of the places that saw on our cruise. It was very moving, almost felt there was a "presence" there. To see all those graves of the young men who died there was powerful. It is a great tribute to those who were there on D day!
Featured in The World As We See It , or as we missed it. 6/2011
Featured in #1 ARTISTS OF REDBUBBLE – 7-16-11 FEATURES: Life's Not ALL Black & White
Featured in #1 ARTISTS OF REDBUBBLE 9-23-11 FEATURES: LIFE'S NOT ALL BLACK & WHITE (REPEAT FROM 7-16-11)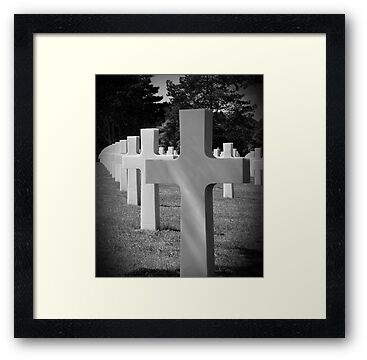 Camera: Panasonic DMC-FZ28
View my BubbleSite – Lucinda Walter Photography
All images are copyright © Lucinda Walter. The materials contained may not be reproduced, copied, edited, published, transmitted or downloaded in any way, shape or form. All rights are reserved. Copying, altering, displaying or redistribution of any of these images without written permission from the Artist is strictly prohibited.