Photograph of the Magellanic Penguins was taken at the Otway Sound one hour from Punta Arenas, Chile, South America. This is where they have there burrows or nest site.
We walked roughly one mile along an exposed uneven shoreline path to see where the penguin burrows. From there we continued on to see the penguins walking from their burrows to the coast where they feed.
Magellanic Penguins are medium-sized penguins which grow to be 24–30 in tall and weigh between 5.9-14.3 lbs.
Featured in The World As We See It , or as we missed it. 11/21/2010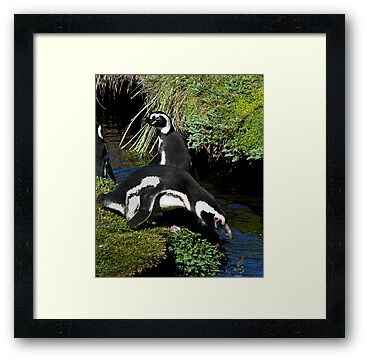 Camera: Panasonic DMC-FZ10
View my BubbleSite – Lucinda Walter Photography
All images are copyright © Lucinda Walter. The materials contained may not be reproduced, copied, edited, published, transmitted or downloaded in any way, shape or form. All rights are reserved. Copying, altering, displaying or redistribution of any of these images without written permission from the Artist is strictly prohibited.