St Augustine Cathedral in Tucson, AZ is a beautiful historically built church under the leadership of Father Patrick M. Crino, Father Frank Cady and Monsignor Carlos Romero-Moreno.
The chapel was originally called San Agustin, and was built as a one-room chapel that contained a special area called a sacristy. This sacristy was the place civilians and soldiers came to pray with the priest. In the 1800s, they added more rooms to the church for the short time it was used. In 1860, the Bishop of Santa Fe sent Father Joseph Machebeuf to look over the church. Upon his advisement, a small house was donated to Father Machebeuf and they began using this building as a church again. Through the next few years, work was done on the building, while changing its name to a church or cathedral. Shortly after this time, the Arizona territory was declared a Vicariate Apostolic and with Fr. Salpointe becoming the Most Rev. Jean B. Salpointe, the Vicar Apostolic of the area. This declaration was made by the Holy See.
One hundred years later in 1966, they began restoration on the church to turn it into the magnificent cathedral it is today, at the same time, celebrating its 100th anniversary of the first church's completion. At this time the name was changed to St. Augustine's Cathedral.
Featured in The World As We See It , or as we missed it. 10/11/2010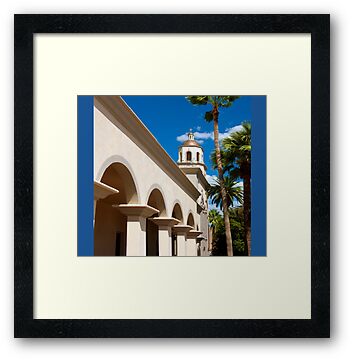 Camera: Panasonic DMC-FZ28
Photographed in raw and converted in PS4.
View my BubbleSite – Lucinda Walter Photography
All images are copyright © Lucinda Walter. The materials contained may not be reproduced, copied, edited, published, transmitted or downloaded in any way, shape or form. All rights are reserved. Copying, altering, displaying or redistribution of any of these images without written permission from the Artist is strictly prohibited.