Photograph of the thistle was taken on Mt. Lemmon, Santa Catalina Mountain range, Tucson, AZ, USA.
Family:Asteraceae
The thistle has been the national emblem of Scotland.
Featured in The World As We See It , or as we missed it. 8/26/2010
Featured in The Tropical Zone 9/2/2010
Featured in ONE SINGLE FLOWER On Show 9/22/2010
Top Ten WINNER – The Tropical Zone – November Avatar – 11/7/2010
Featured in Color Me a Rainbow – Purple 11/22/2010
Top Ten Winner – Live, Love, Dream – Thistles and Burrs – 3.29.2011
Featured in THE GROUP-GALLERY OF ART & PHOTOGRAPHY 6.3.2012
The Santa Catalina Mountains, commonly referred to as the Catalina Mountains, are located north, and northeast of Tucson, Arizona, United States. The mountain range is the most prominent in the Tucson area, with the highest average elevation. The highest point in the Catalinas is Mount Lemmon at an elevation of 9,157 feet above sea level and receives 180 inches of snow annually.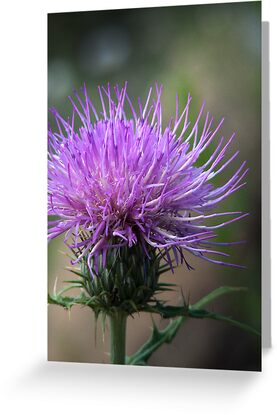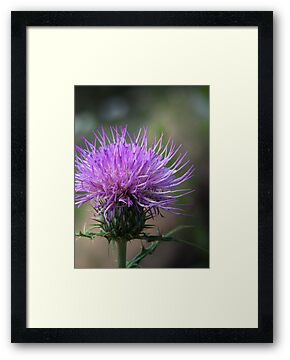 Taken in RAW-Converted in PS4
Camera: Panasonic DMC-FZ28
View my BubbleSite – Lucinda Walter Photography
View my Website – lwalterphotography
I'm also at Green Valley Fine Arts Network
All images are copyright © Lucinda Walter. The materials contained may not be reproduced, copied, edited, published, transmitted or downloaded in any way, shape or form. All rights are reserved. Copying, altering, displaying or redistribution of any of these images without written permission from the Artist is strictly prohibited.