Arizon's Desert Bluebells, Phacelia campanularia, arive to welcome spring in the desert. They appear after winter rains and warm sunshine. The flowers are a brilliant blue color, bell shaped with 5 petals, about 1 inch in diameter. They bloom from February to April. Their leaves are heart-shaped and edged in red. Photograph was taken in Green Valley, Arizona, USA.
SOLD! – Thank you to the very special buyer that purchased a 4″ × 6″ Postcard of my work. I'm honored & thrilled!!! THANKS!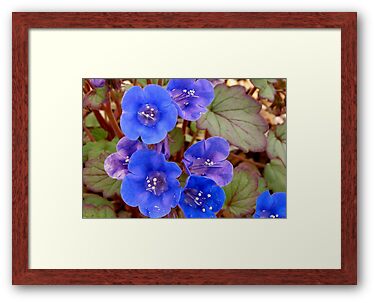 Camera: Panasonic DMC-FZ28
View my BubbleSite – Lucinda Walter Photography
All images are copyright © Lucinda Walter. The materials contained may not be reproduced, copied, edited, published, transmitted or downloaded in any way, shape or form. All rights are reserved. Copying, altering, displaying or redistribution of any of these images without written permission from the Artist is strictly prohibited.