The view of the The Temple of the Olympian Zeus as seen from the Acropolis. Hadrians Arch is viewed in the lower left area of the picture. The city of Athens is surrounding the Olympiad. These ancient sights are located in Athens, Greece.
SOLD – Postcard – 6.1.2013 – THANK YOU to the very SPECIAL buyer!
Challenge Winner – All That's Archaeology – Something Old Something New, 3/2010
Featured in All That's Archaeology, 5/2010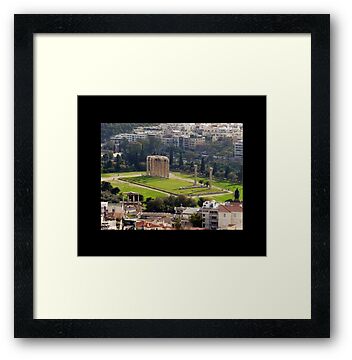 Camera: Panasonic DMC-FZ28
View my BubbleSite – Lucinda Walter Photography
All images are copyright © Lucinda Walter. The materials contained may not be reproduced, copied, edited, published, transmitted or downloaded in any way, shape or form. All rights are reserved. Copying, altering, displaying or redistribution of any of these images without written permission from the Artist is strictly prohibited.