800 VISUALIZZAZIONI AL 21 SETTEMBRE 2012 – Il maestoso edificio di PALAZZO DUCALE che con la sua mole determina il profilo della città vista dal Bacino di San Marco, è stato per tutta la durata della Serenissima l'abitazione del doge e la sede del Governo. Internamente è ornata da stucchi bianchi e oro,, per accedere ai due piani superiori si sale attraverso la Scala d'Oro, così chiamata per la magnificenza delle sue decorazioni….
Questa foto risale a più di trent'anni fa….allora usavo una canon con teleobbiettivo…si può notare da questi grandi barili nell'acqua che servivano da scoglio, ora davanti a Palazzo Ducale non ci sono più….col tempo sono stati rimossi e usati sistemi tecnologici diversi…..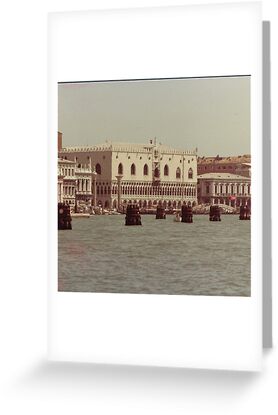 E majestic building of the Ducal Palace with its mass which determines the profile of the city seen from the Bacino di San Marco, was for the duration of the Venetian Doge's residence and the seat of government. Inside it is decorated with white stucco and gold, for access to the two upper floors you climb through the Scala d'Oro, so called because of the magnificence of its decorations …
This picture dates back more than thirty years ago …. then I used a Canon telephoto lens … you can see from these large water barrels that served as the rock, now in front of the Ducal Palace there are more … . have been removed over time and used different technology systems ..