Another shot of our Cat Milo
Graham Taylor Photography Services
About Milo…Firstly, despite the misleading name, he is a SHE who was actually handed to us by the Vet following the death of our "Street" Cat Buttons. She is approaching 3 years old…as for breed, a few people tell me she looks like a Maine Coon…personally, I am not sure so for the sake of Challenges, i will call her a Maine Coon.
Back to her Sex…She was passed to us as a HE but during a visit to the Vets, we were told He is actually a She…Confused?
I certainly was but the name stayed.
---
14-JAN-2013 CALLENGE IN JANUARY 2013 VOUCHER CHALLENGE IN GROOVY KITTY CATS GROUP
---
05-NOV-2012 FEATURED PHOTO IN GROOVY KITTY CATS GROUP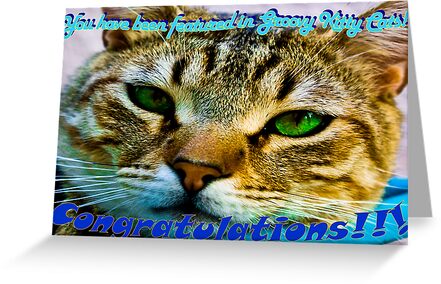 ---
09-SEP-2011 FEATURED PHOTO IN SHOW US YOUR PETS GROUP

---
24-AUG-2011…TIED WINNER!! IN MY LOVING CAT CHALLENGE GROOVY KITTY CATS GROUP !

---
16-NOV-2010…WINNER!! IN BEST LOOKING CAT CHALLENGE PETS NEED A HUG GROUP
---
02-OCT-2010 FEATURED PHOTO IN DOGGIE AND KITTY PARADISE GROUP

---
13-JUL-2010 SALE OF GREETINGS CARD
---
16-JUN-2010…5th PLACE IN CLOSE UPS CHALLENGE IN PLAYFUL PHOTOGENIC ANIMALS GROUP
---
25-NOV-2009…8th PLACE IN LOOK INTO MY EYES CHALLENGE IN FOR THE LOVE OF CATS GROUP

---
21-OCT-2009…WINNER!! IN KITTENS OR CATS CLOSE-UP IN DOMESTIC AND PEDIGREE CATS GROUP…CHALLENGE AVATAR FOR THIS CHALLENGE
---
20-OCT-2009…RUNNER-UP IN HEADS ONLY CHALLENGE IN PLAYFUL PHOTOGENIC ANIMALS GROUP
---
14-OCT-2009…RUNNER-UP IN "TOO CLOSE FOR COMFORT" CHALLENGE IN "ALL PETS GREAT AND SMALL GROUP"
---
22-MAY-2009 FEATURED PHOTO

---
---