"Seen It All Before......" - Third and Final Journal In the Series
The past two Journals in the this series of mine have been amazingly insightful for me. It's been a wee journey in itself.
This final installment is really summing up what I feel about my work and why I do it – also giving a insight to why I laughed at the phrase "Seen It All Before….."
When I started out, I was lucky to have two things in my locker to build my photography on: amazingly inspiring scenery around me and a true love of the land. Then I met an truly talented photographer on my early travels.
Let me tell you what I know of him (and also to answer a wee question that Adam asked in the first journal).
He never published anything. He never showed his work. He didn't particularly like the whole photography scene that he percieved that had/has grown around the medium. He just loved what he did and I can always remember the contentment of his aged face as he looked out of a scene. His love of the land was apparent to a point where it was achingly so. He would see things that most would miss – the way the clouds moved, the way light kissed a hillside, the way a tree would shelter a water trough with an amazing backdrop, ……the list could go on.
For the few times that I had met him, he imparted some incredible insights and advice to me. He did despair at times at my love of B&W as he was under the impression that I wasn't being "true to the view". It always made me laugh (a wee insight to my reaction).
One thing that he did say and underpins everything that I do, even now, is the following statement:
"Capture what made you you stop and look."
He always maintained that if a view (or anthing when it comes to it) made you just stop and look, there must a picture there – it just up to you to capture the essence as well.
Unfortunately, he passed away not long after our wee trips out here and there.
His legacy left a huge imprint on me and my work. "And how so?" you may ask.
I never plan a trip anymore. Madness? Maybe but it is my way. I tend to follow what I'm in the mood for and from there, where the impulse lets me go. I find this works for me as then everything is a surprise rather than contrived or staged or otherwise. It has often been said that I'm like a child with wide-eyes when I'm in the land and I often see the wee things that spark my interest through to passion. It is something that I will never tire of – I only wish I could attain that contentment that my friend had.
So why B&W then? For me, it is a more expressive way of sharing the view. It tends to be what I see and what I interpret from the "view". Every sense, every element, and every ounce of me is there to be shown.
An example: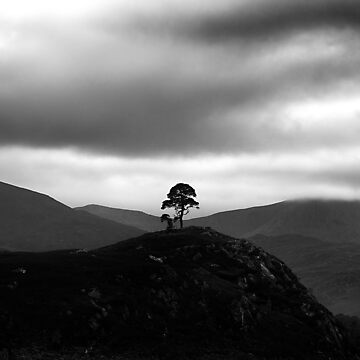 This is very iconic for me (as I have written before in an earlier journal) and I can sort of relate to this lone Scots Pine in many ways. For this, it derserves to be centre stage.
The tones and contrasts set the scene. Even though the clouds and surrounding Munros look foreboding, "Majestic" still stands proud and shines out for all to see. It is almost a beacon and keeps drawing me back time and time again.
Something that a colour version couldn't translate for me.
Another one then: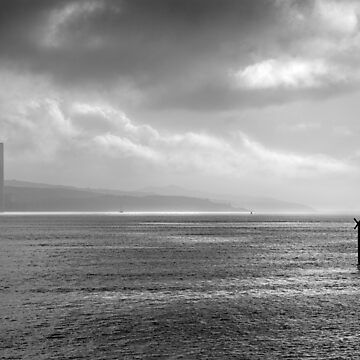 When I looked at this scene, I was incredilbly touched and overwhelmed at all the elements that were converging together. Even though I'm quite an Aquaphobe, I do seem to be compelled to be beside the sea or ocean for some reason, especially the west coast. I think this makes scenes like this even more powerful for me.
The rain was being blown in from the sea up the Firth Of Clyde towards Glasgow and from my vantage point at Dunoon, it drifted in like veil over the land – diffusing the spring light through and under the cloud.
This one wee sea beacon caught my eye. It seemed to look longingly at the tall stack of the power station across the waters, which then appeared to grow more distant as it's outline softened through the lazy rains. For me, it was quite sentimental – a wee love story if you wish.
Hence the title, "Poles Apart".
B&W's will always be the medium for me. It gives me expression, it gives me art and it gives me such pure contentment to share the view – my view.
So I ask the question again: "Seen It All Before"? That is why I laughed.
So ends my wee series of journals. I hope you've enjoyed the wee journey (hence it is where the word "Journal" comes from!)
Enjoy!