Sacred Spring of the Roman Baths.
Bath, England. 2007.
Canon EOS 400D
Canon EF 28-135mm f/3.5-5.6 IS USM
f/8, 1/80s, ISO 1600
RAW. BW conversion in PS.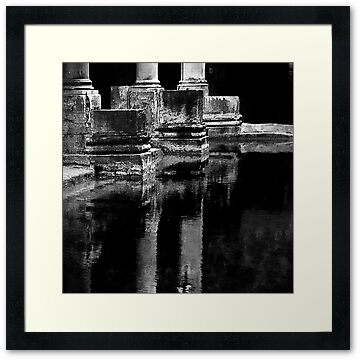 At the very heart of the Roman Baths is the Sacred Spring. Hot water at a temperature of 46°C rises here at the rate of 1,170,000 litres (240,000 gallons) every day and has been doing this for thousands of years.
In the past this natural phenomenon was beyond human understanding and it was believed to be the work of the ancient gods. In Roman times a great Temple was built next to the Spring dedicated to the goddess Sulis Minerva, a deity with healing powers.
The mineral rich water from the Sacred Spring supplied a magnificent bath-house which attracted visitors from across the Roman Empire.
Roman engineers surrounded the hot Spring with an irregular stone chamber lined with lead. To provide a stable foundation for this they drove oak piles into the mud. At first this reservoir formed an open pool in a corner of the Temple courtyard but in the second century AD it was enclosed within a barrel vaulted building and columns and statue bases were placed in the Spring itself. Enclosing the Spring in a dimly lit building in this way and erecting statues and columns within it must have enhanced the aura of mystery that surrounded it. Offerings were thrown into the Spring throughout the Roman period.
Eventually the vaulted building collapsed into the Sacred Spring itself. We do not know when this was, but it is likely to have been in the sixth or seventh century. The oak piles sunk into the mud two thousand years ago continue to provide a stable foundation for the Roman reservoir walls today.
The King's Bath was built, using the lower walls of the Roman Spring building as foundations, in the 12th century. The bath provided niches for bathers to sit in, immersed up to their necks in water. On the south side of the bath is a seat known as the Master of the Baths chair, that was donated in the 17th century.
Although modified and encroached upon by the building of the Grand Pump Room in the 18th century and subsequent 19th century developments the King's Bath continued in use for curative bathing until the middle of the 20th century. The bath is overlooked by a statue of King Bladud, the mythical discoverer of the hot waters and founder of the City of Bath.
(care of the RomanBaths website)
---
---
views as of 13.08.11: 224
faves as of 13.08.11: 17
---
Top Ten
---
"Black and White Doors and Windows Challenge" at Preserving History
"Doors & Doorways Challenge" at BnW Photography
---
Featured
---
Architecture – The British Isles
Artists Universe
URBEX: A Hazardous Addiction
Your Magic Place
PostCard Style
Time Gates
Full Frontal Facades
European Everyday Life
Realism & Symbolism
Unique Buildings Of The World
Ancient Relics, Customs & Sites
HIGH QUALITY IMAGES
Wall of he World
Mamara
The Group