Essaouira, Morocco. 2007.
Canon EOS 400D
Canon EF 28-135mm f/3.5-5.6 IS USM
f/29, 1/500s, ISO 1600
RAW
Was this man at prayer or just fixing the paving? I like to think it was a quiet moment of solitude in the middle of the busy, hot day.
---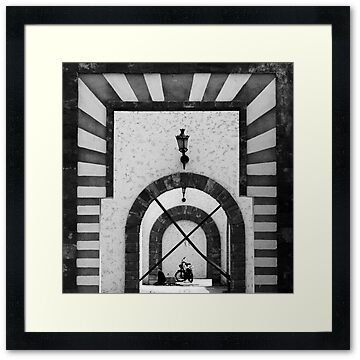 ---
"Salah" is an Arabic word whose basic meaning is "supplication". In its English usage the reference of the word is almost always confined to the Muslim formal, obligatory prayer described in this article.
Translating "salah" as "prayer" is not usually considered precise enough, as "prayer" can indicate several different ways of relating to God. In the past salah has been called "the contact prayer", "the obligatory prayer", "the formal prayer", and so on, but normal academic practice in English is now to refer to the prayer by the Arabic term. (care of Wikipedia)
---
---
views as of 11.08.11: 339
faves as of 11.08.11: 14
---
Top Ten
---
"Striped Challenge" at Vibration in Art and Verse
"The X Factor" at All About Finding the Unusual in the Usual
---
Featured
---
The World As We See It
Abstract Lines
Which Way
Time Gates – Featured Artist
Wall of the World
Art of the Middle East – Featured Artist