Abstracted sunset on Linyanti Marsh,
Chobe National Park,
Botswana. 2009
Canon EOS 400D
Canon EF 70-300mm USM
f/5.6, ISO 200, 1/500s, 300mm
RAW
---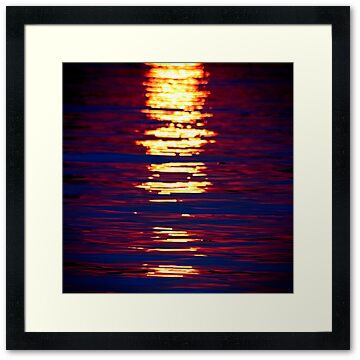 ---
---
Chobe National Park, in northwest Botswana, has one of the largest game concentration in Africa continent – including the rare Puku antelope, .
By size, this is the third largest park of the country, after the Central Kalahari Game Reserve and the Gemsbok National Park, and is the most diverse. This is also the country's first national park.
The Linyanti Marsh, located at the Northwest corner of the park and to the North of Savuti, is adjacent to Linyanti River. To the west of this area lies Selinda Reserve and on the Northern bank of Kwando River is Namibia's Mamili National Park. Around these 2 rivers are riverine woodlands, open woodlands as well as lagoons, and the rest of the region mainly consists of flood plains. There are here large concentrations of lions, leopards, wild dogs, Roan antelopes, Sable antelopes, hippopotamuses and above all enormous herds of elephants. The rarer red lechwe, sitatunga or crocodile also occur in the area. Birdlife is very rich here.
The Serondela area (or Chobe riverfront), situated in the extreme Northeast of the park, has as its main geographical features lush floodplains and dense woodland of mahogany, teak and other hardwoods now largely reduced by heavy elephant pressure. The Chobe, which flows along the Northeast border of the park, is a major watering spot, especially in the dry season (May through October) for large breeding herds of elephants, as well as families of giraffe, sable and cape buffalo. The flood plains are the only place in Botswana where the puku antelope can be seen. Birding is also excellent here. Large numbers of carmine bee eaters are spotted in season. When in flood spoonbills, ibis, various species of stork, duck and other waterfowl flock to the area. This is probably the most visited park section, partly because of its proximity to the Victoria Falls. The town of Kasane, situated just downstream, is the most important town of the region and serves as northern entrance to the park. (care of Wikipedia)
Chobe National Park is no longer home to any rhinoceros. Due to rampant poaching, the population of rhino were moved to the protection of the Khama Rhino Sanctuary
---
views as of 12.09.11: 295
---
Sold
---
Photographic print
Thank you so much to the anonymous buyer!
---
Top Ten
---
"Reflections Challenge" at Between Violet & Crimson
"All About Water Challenge" at Canon Photography Only
---
Featured
---
Nature Photography Challenge
African Beauty
All Water in Motion and Reflections in Water
World Wide Sunsets