Kruger National Park, South Africa.
Canon EOS 400D
Canon 75-300mm
f/5.0, 1/320, 200mm, ISO 100
RAW.
This poor struggling lioness was busy trying to bring down this buffalo when we arrived. She had already taken a kick from it and both she and the buffalo were bleeding. They spent about half an hour in this slow fight and eventually they went their separate ways – the lioness hungry and injured and the buffalo not too much worse for wear. Meanwhile two large male lions had been sitting back a few hundred metres, watching the struggle.
---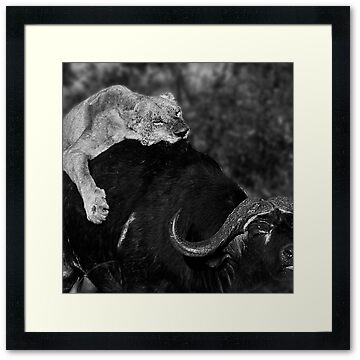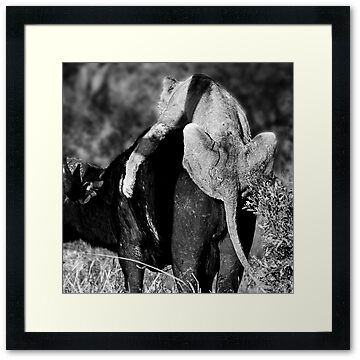 ---
---
Kruger National Park is one of the largest game reserves in Africa. It covers 18,989 square kilometres (7,332 sq mi) and extends 360 kilometres (220 mi) from north to south and 65 kilometres (40 mi) from east to west.
To the west and south of the Kruger National Park are the two South African provinces of Limpopo and Mpumalanga. In the north is Zimbabwe, and to the east is Mozambique. It is now part of the Great Limpopo Transfrontier Park, a peace park that links Kruger National Park with the Gonarezhou National Park in Zimbabwe, and with the Limpopo National Park in Mozambique.
The park is part of the Kruger to Canyons Biosphere, an area designated by the United Nations Education and Scientific Organisation (UNESCO) as an International Man and Biosphere Reserve (the "Biosphere").
All the Big Five game animals are found at Kruger National Park, which has more species of mammals than any other African Game Reserve (at 147 species).
Population Statistics as of 2009:
Elephant: 11 672
Lion: 1 500
Hyena: 2 000
(care of Wikipedia)
---
views as of 29.08.11: 633
---
Top Ten
---
"Big Five Challenge" at Mozambique & Neighbours
"Interspecies Challenge" at Animals of Africa – Best of the Best
"The Natural World Challenge" at Visualizing Emotion
"Wildlife Showing Their Wildside" at Amazing Wildlife
"Big Cat Aggressions Challenge" at Amazing Wildlife
"The Journalist Challenge" at THE WORLD
"Predator in the Act Challenge" at Nature Photography Challenge
---
Featured
---
The Silky Touch
Newfangled, Nonedited Photography
Antlers, Racks, and Other Horned Animals
For the Love of Cats
Black and White Photography
Special Moments
AFRICAN BEAUTY
Nature Photography Challenge
The Best of RedBubble