Spotted Hyena (Crocuta crocuta)
Kruger National Park,
South Africa. 2009
Canon EOS 400D
Canon EF 75-300mm f/4-5.6 USM
f/5.6, 1/100s, ISO 200
RAW. As is.
This was the last of the animals we spotted that day. Just as the sun was coming down, only a few minutes of light left. I was so excited to see this calm, resting hyena just lying there looking at us, its hair ringed by the lowering sun. The calm, almost gentle look in its eyes really speaks to me. I've always felt that Hyena's have earned a reputation worse than they deserve, and when I look into the eyes of this one, it's almost the same as looking at my pet dog.
I'm really happy that I was able to capture this moment, something different from what is expected in the 'usual' photographs of hyenas. I'm sure the behaviour and characteristics of Hyenas gives reason for their terrible reputation but when I see this photo it reminds me that animals, just like people, have different facets to their personalities.
---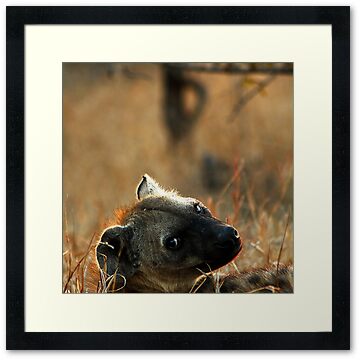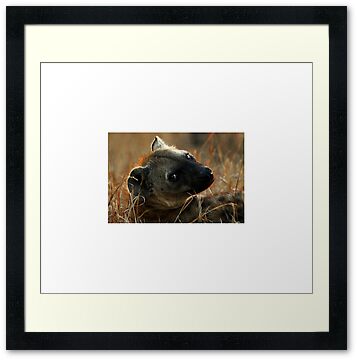 ---
---
---
The spotted hyena (Crocuta crocuta) also known as laughing hyena, is a carnivorous mammal of the family Hyaenidae, of which it is the largest extant member. Though the species' prehistoric range included Eurasia extending from Atlantic Europe to China, it now only occurs in all of Africa south of the Sahara save for the Congo Basin. Spotted hyenas live in large matriarchal communities called clans, which can consist of up to 80 individuals.
Though often mislabeled as cowardly scavengers, spotted hyenas derive the majority of their nourishment by hunting medium sized ungulates, and frequently clash with lions over food and territory. They are highly intelligent among the carnivora, with studies indicating that their social intelligence is on par with some primate species.
The spotted hyena features prominently in African mythology and folklore, where its portrayal varies from being a bringer of light, to a symbol of immorality and depravity. (care of Wikipedia)
---
See the entire collection

---
views as of 04.09.11: 312
---
Featured
---
Colour and Light
The Silky Touch
Eye Contact
AS IS PHOTOGRAPHY
Let Animals Stay Free
Speaking Photos