Fes, Morocco. 2007.
Canon EOS 400D
Canon EF 28-135mm f/3.5-5.6 IS USM
RAW. B&W conversion PS.
---
This family of 8 is not homeless.
The photo was taken in July 2007, the hottest summer I have ever experienced, though probably an annual thing for the locals of Morocco. The family was sleeping on the roof because the days were reaching 45 Celsius, and the nights were not much better.
Everyone stayed in the shade during the days and came out at night to go about their business. Even small children were up till 2am. Needless to say, it made my trip exhausting but exciting.
---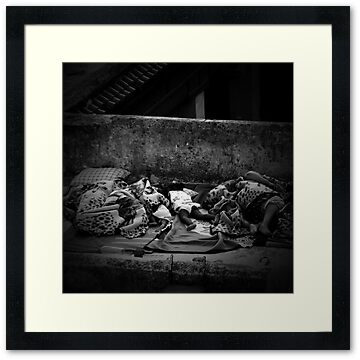 Fes or Fez (Arabic فاس [Fās], French Fès) is the third largest city in Morocco, after Casablanca and Rabat, with a population of 946,815 (2004 census). It is the capital of the Fès-Boulemane Region.
Fes is one of the four so-called "imperial cities" (the others are Marrakech, Meknes and Rabat). The Medina of Fes el Bali, the largest of the two medinas of Fes, is believed to be the largest contiguous car-free urban area in the world. Fes el Bali is classified as a UNESCO World Heritage Site. (Care of Wikipedia).
---
---
views as of 26.08.11: 1855
faves as of 26.08.11: 10
---
Top Ten
---
"Powerless Challenge" at Visualizing Emotion
"Images that Tell a Story Challenge" at Cee's Fun Artsy Friends
"Cities Past & Future Challenge" at Zeitgeist
"People Asleep in the Street Challenge" at Amateur Photographers' Association
---
Featured
---
The World As We See It
The Silky Touch
Gems Gone Unnoticed
FREEDOM IN WORDS & ART
Inspired Art
Creative Portraits of Children
#1 ARTISTS OF REDBUBBLE
Morocco