A very well camouflaged Sloth
London Zoo, England. 2007
Canon EOS 400D
Canon EF 28-135mm f/3.5-5.6 IS USM
RAW. BW conversion & toning in PS CS3
Did You Know?
Because Sloth's spend so much time hanging upside down, their fur grows in the opposite direction
Sloths can sleep from 15 to 18 hours each day.
They are particularly partial to nesting in the crowns of palm trees where they can camouflage as coconuts.
They come to the ground, to urinate and defecate, only about once a week.
As much as two thirds of a well-fed sloth's body-weight consists of the content of its stomach
The Sloth's digestive process can take up to a month.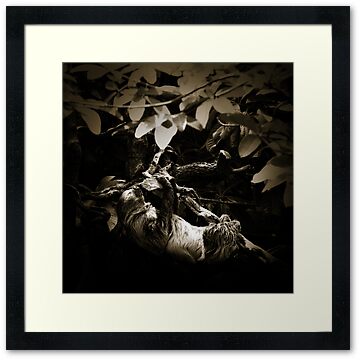 views as of 19.08.11: 817
Featured in:
No More Color
Generation Y
The Art of Intrigue 2/24
The World As We See It
This photograph was shortlisted as the Editor's Choice in the Digital Camera Magazine Photographer of the Year Award 2008.